This page is my declaration of a personal 25 Things Challenge.
I will use this page to maintain a list of all my possessions and I will update it on a monthly basis. My goal is to keep my total physical possessions at or under twenty-five items.
This challenge is in no way an attempt to one-up anyone else. I'm not trying to outdo people like Leo Babauta, Everett Bogue, Colin Wright, Karol Gajda, or Henri Junttila. All of them have inspired me and I'm thankful for their contributions.
The Rules:
If I bring it with me when I move, I have to count it (that includes books!)
Anything smaller than the size of both my fists can be counted together (e.g., two pair of socks, two pair of underwear)
Items that depend on each other can be counted together (e.g., MacBook Pro + Charger, Notebook + Pencil)
You are more than welcome to join me in this challenge, but I do not challenge you to do so. Everyone is unique and we all have our priorities; your circumstances may prohibit such a drastic reduction of material possessions, and that's fine.
Minimalism means more than a reduction of physical possessions.
The Physical Possessions (updated September 1st, 2010):
Apple MacBook Pro + Charger
Apple iPhone + Charger
Panasonic Lumix DMC-GF1 Digital Camera + Charger + Extra battery
Apple Magic Mouse
Western Digital 500GB External Hard Drive + USB Cable
Nokia Mobile Phone + Charger
Earbuds + 16GB Thumbdrive + Mobile Data Card
Travel Adapter
North Face Trousers
Prana Trousers
North Face T-Shirt
Jack Wolfskin Shirt
2 x Eastern Mountain Sports Boxers
Wool Socks (1 pair)
Vibram FiveFingers Sprint
North Face Hiking Shoes
Moleskin Notebook + Pencil
Medical Kit
Hygiene Kit (Toothbrush, Toothpaste, Tongue Cleaner, Floss)
Survival Kit (Firestarter, Compass/Whistle/Thermometer, Headlamp, Twine)
Water Bottle
Travel Towel
3 x Dry Bags + Backpack Dry Cover
Misc Travel Documents (Passport, License, Cash, Credit Cards, printed airplane ticket confirmations, etc.)
Crumpler Customary Barge 30L Backpack
Why 25 Things?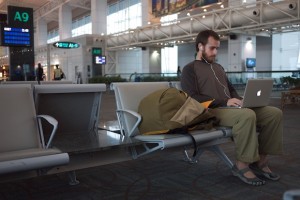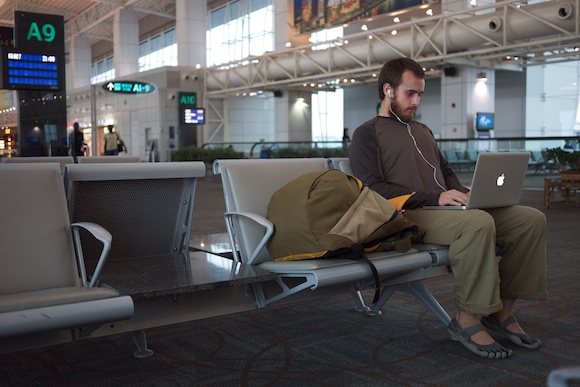 My original goal was to simply travel for six months with only a 30L backpack. Somewhere along the line, I decided to count how many items I was actually traveling with and the number came surprisingly close to twenty-five. That became my target.
This number isn't set in stone and I will let the number fluctuate in either direction depending on my circumstances (if I'm traveling in a cold climate for example, I will need different items). However, my goal will always be to keep the number at twenty-five items or less.
The motivation for this public challenge came after witnessing extreme poverty during my travels through India in 2010. I realized that most of us live with far more stuff than we actually need and that by limiting what I own, I would be indirectly allowing others to have what I had given up.
It's all about the butterfly effect: By living with fewer physical possessions, I'm having a positive effect on those who actually need them.
But again, if you live in suburban California with three young children I don't expect you to live out of one bag. It's all about priorities. Determine what matters to you most in life and go from there.