I've been looking for something to replace iTunes as the main library for my 20,000+ mp3s. Whatever application replaces it needs to stand up to some high expectations, including the ability to manage such a large number of mp3s without slowing down or crashing, and a rating system that allows me to rate my favorite songs (I'm always finding new songs in my huge collection, so rating them is important for when I want to come back to them). Of course, the ability to import my current iTunes library and support for my iPod would be huge pluses.

Welcome SongBird, a multi-platform media player developed by a group known as the Pioneers of the Inevitable. They're responsible for the creation of Winamp and the Yahoo! Music Engine. The current version of SongBird is 0.2.5 and although it's a bit rough around the edges (literally, the edges don't look as smooth as they should) it still shows a lot of promise: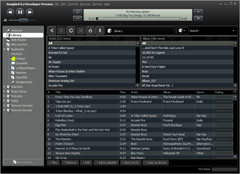 The list of features is very impressive and includes support for importing your iTunes library, interfacing with your iPod, and of course, an iTunes-like rating system. SongBird also has a built-in web browser which automatically searches the current webpage for any available music and allows you to play the music in SongBird as if it were a local file. Check out the SongBird Screencast to get a better idea of how all this stuff works.
I've started using SongBird on my Mac and so far I love it. A couple more skins (known stylishly as feathers in SongBird) would be nice, especially an iTunes skin. 🙂 SongBird is still in the development stages and, as far as I can tell, is not an open-source project. However the website says the group does "support the Mozilla Foundation's mission to preserve innovation and choice on the Internet". This means that even if there is a cost associated with SongBird when it's finally released, I'll be happy to purchase it knowing the money will go towards a good cause.