So there I was, looking at the Jeep Rubicon on jeep.com and configuring the model exactly to my liking (pictured). I sat there calculating the monthly payment, modifying the interest rate, down payment, term, etc. I couldn't help myself. I absolutely love Jeep Wranglers. When I was a little kid, I remember watching movies that showed Wrangler's crashing through the forest, blazing trails, and climbing rocks. A vehicle that could go places others wouldn't stand a chance. A design proven reliable during World War II, and 65 years later, still a popular design. Jeep Wranglers stand for everything I'd look for in a vehicle: rugged, versatile, a sign of independence and an outdoor spirit to conquer the world.
But I don't need it, I just want it. There is that clear distiction between what I need and what I want. After spending hours looking at pictures and planning how I could afford to purchase one, someone reminded me about what I had forgotten. I really don't need one. My 2000 Chevy Silverado 1500 pickup truck runs fine. Sure there are a few transmission problems, 133,500 miles on it, and it costs me $65 to fill the gas every week, but it does what I need; it gets me from point A to point B (as well as anything I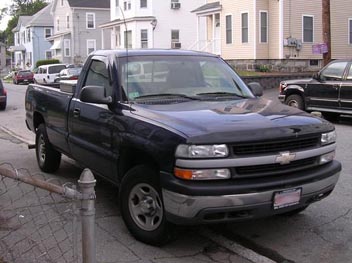 might need to haul along). It makes a lot more sense to pay off my credit card debt and save my money until I really do need a new car. I told myself when I bought my truck, that no matter what, I would keep it for as long as possible (all my previous cars had come and gone within a year!). I've had it for 1 year 7 months; the longest I've ever owned the same vehicle. So for now, I'll have to use the pictures and my imagination to pretend what it would be like to own a Jeep. Sure, the urge to buy it is strong, and I really want one, but overcoming the desire for something you don't need is a goal worth reaching.