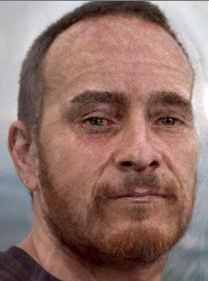 He looked noticeably older, a little worn, but utterly calm with a presence that seemed to exude experience, awareness, and most of all a sense of confidence. He seemed a lot more laid back and easygoing than my present self.
I was sitting at a small coffee table in Kathmandu, Nepal and I had looked up from my laptop to find myself, twenty years in the future, sitting right across from me.
As I stared in disbelief, he leaned back and eased into the chair. His eyes smiled and he looked over me, as if he was inspecting a rare artifact.
"I'm you", he said with a bit of humor in his voice, "twenty years in the future. I only have a few minutes and I'd like to hear what advice you can give me."
Advice? What advice could I possibly give? What could I say to someone who knows every single thing about me and then an entire lifetimes worth on top of that?
This was difficult. Writing advice to my younger self was a lot easier. A future version of myself would invariably have more experience, a greater perspective, and far more wisdom than my current self. But there he was, and he wanted me to speak. He seemed a bit stronger than me, so I wasn't about to ignore him.
What advice would a future version of myself need that he couldn't give himself? What would he need to hear from the less experienced version of himself? What might time have taken away from him that only I could provide?
Here's what I came up with:
Never settle. I'd like to say never settle in the literal sense (family, kids, house, etc.) but I'm a young, inexperienced, digital nomad who has just discovered his love for the nomadic lifestyle and I cannot begin to understand what you've been through or how you currently perceive your purpose in life. So instead, let me just tell you to never settle with ideas, with knowledge, with your accomplishments. Every day, every moment, is a fresh start. Keep the rebel in your heart alive until the day you die.
People need you. Help them. There are so many people in this world who need help. Whatever you end up doing in your life, remember them. Remember those people at every corner, every crossroads, and every intersection. Let them guide you. You won't be here for much longer and they are the one's who need the most help, so do what you can to help them. Remember that what you take goes with you when you're gone, but what you give is immortal.
Stay young. Age is a measurement of how much you're learning and how curious you are. Never stop doing either of them. Remember that youth is a state of mind, not a physical condition. Look to the younger generations to see what they're doing and what they're learning. Put yourself in their shoes and see their future. What can you do to improve their future?
Give unconditionally and remember your roots. If by chance you've found your soulmate and decided to have children, remember that strong moral values, immense respect for your elders, self-reliance, a willingness to learn, open-mindedness, and sense of fierce independence got you to where you are today. Teach your children the same, but don't smother them. Remember that you can never give too much unconditional love and freedom so long as the two are balanced. Encourage learning and open-mindedness above all else.
Remember this one thing. You will likely take all this advice with a grain of salt because you're stubborn and you probably feel that I'm so inexperienced and so naive that I couldn't possibly have anything valuable to teach you. If you take just one piece of advice from this, please remember that stubbornness is only useful when it keeps you on track for a noble cause. If it's holding you back from learning something, let it go!
Never stop questioning the status-quo. If you have kids, be sure to teach them the same. Never accept something as truth simply because someone, or everyone, says it is so. Use the information available to you, and the wisdom and experience of others, and then trust your own intuition and decide for yourself.
Music is your equalizer. Remember how important music has been in your life and how effective it has been for reeling in emotions and putting them in harmony with the rest of your being. Music helped you write this post in three hours when you were in the middle putting together your first ebook. Music will be around forever. If life feels like it's in a knot, untie it with music.
You could die tomorrow, so make today count.
It's never too late to start. Tomorrow holds just as much opportunity for you as tomorrow does for me.
Die running. Remember that you've always said you want to "die running". No matter what happens, no matter how frail you become, no matter how many injuries you've sustained, no matter how sick you may be or how much you're suffering, stay active and stay positive. Use it or lose it. If you slow down or let yourself be negative, you're inviting death into your life.
Think forward. You might be thinking about me right now, about what life was like for me and all the things you wish you could tell me and warn me about. Stop. The past has been written and the only thing you can do a damn thing about is your present moment. No matter what your circumstances are, your future is still unwritten. Go write it.
***
I'm sure I will look back at this piece of writing twenty or thirty years from now and find it very interesting to see the perspective of my younger self. I go through the archives on this blog from time to time and I'm always astonished by how foreign my past self seems to me and by how much insight I gain from him.
If you have a blog, or even if you don't, I highly recommend you try this exercise. Figuring out what advice we'd give our younger selves is easy, but to give our older selves advice we need to step into their shoes. By doing that we're forced to take an honest assessment of where we think we're headed and what type of person we think we'll become.
I was encouraged to write this by Courtney Carver over at Be More With Less and we agreed to both do this exercise and then exchange links. Be sure to check out Courtney's post, 20 Lessons for my Future Self.
The aged photo of myself was generated with a tool called Face of the Future.