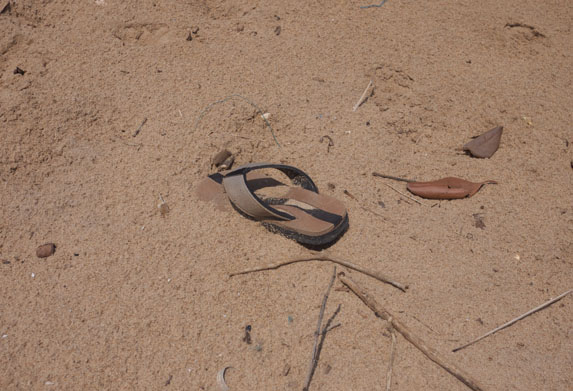 It was my first day in Gokarna, a small beach town on the west coast of India. Getting here had been an all-day adventure of trains, buses with flat tires, and a sketchy taxi driver who had us switch cars halfway to the hotel (he told me his driver was picking us up... I thought he was the driver!). However, after spending several months away from any large bodies of water, I was looking forward to enjoying the beach.
I decided to venture out from the hotel barefoot, as my only other option was to wear the heavy hiking boots that had spent the previous 24 hours on my feet. A quick glance outside confirmed that walking barefoot was not only acceptable but common.
It was already mid-morning and the sun had been up for some time. The pavement was searing hot. My feet, apparently too pampered by socks and shoes, were unable to withstand the pain from the heat and I quickly had to find a shaded area of the road.
I wasn't sure where I was going, only that the direction I was walking was towards the ocean. I knew this because I had checked my compass before leaving the hotel to ensure my sense of direction was correct.
The street was small, often only wide enough for a single car to pass through. People moved about slowly, entering temples, carrying flowers, chatting on their cellphones. Cars and bikes blared their horns while dodging cows, dogs, and people.
I looked at the ground as I walked, dodging piles of cow dung and trying my best to hide the pain my feet were feeling. The air smelled of strong incense and burning sandalwood. The chanting of prayers filled the street. If there was an ocean around, it seemed quite far away.
After about ten minutes, the street opened up and the ocean presented itself. Good, I thought to myself, at least I'm not in the wrong town. After stopping at one of the cafes to buy a bottle of water, I headed down to the beach.
Stepping onto the sand, my feet once again screamed in agony: the sand was too hot to walk on! This whole not wearing shoes thing was beginning to look like a really bad decision.
If could just make it to the ocean, I thought, I would be able to cool my burning feet off in the water. I took ten steps before my feet rudely told me that it was just too hot.
This was silly. I shouldn't need to walk all the way back to the hotel to get my shoes just so that I can cross this patch of sand! There must be some other way.
Then I remembered I was carrying a bottle of water. I thought maybe if I doused my feet with water before walking onto the sand, that would give me just enough time to reach the ocean.
It worked. The ocean water was a lot warmer than I expected, so it didn't relieve my painful feet as much as I was hoping, but I made it.
The beach didn't look much different than any of the other beaches I've seen in the United States: Lots of sand, an ocean with waves, people relaxing, and -- wait, are those cows? Yes, there were cows lounging on the beach right next to the people. OK, so maybe it's not exactly like the beaches in the States.
I spent the next six hours walking along the ocean, stubbornly determined to discover just how far the beach went (turns out it's 9 miles). I passed rows of wooden fishing boats, the carcass of a dolphin half buried in the sand, dogs cooling off in the ocean, and more trashed sandals than I could count.
Wait, sandals? My feet could really use a pair of sandals! Up to that point, my plan was to keep walking along the ocean until the sun went down and the sand cooled off enough for me to cross it again. If I could find a pair of sandals, I could not only avoid burning my feet, but I could also avoid spending money on a new pair and save some of my quickly shrinking budget.
I started sifting through the sand, pulling up sandal after sandal, periodically running back to the ocean when my feet couldn't take the searing heat any longer. Most of the sandals were not even wearable, but after about five minutes I discovered a pair that fit. They didn't match, but they fit. As I walked on, I felt pleased with myself that I just obtained a pair of free, wearable sandals. How's that for frugality?
Later that evening, I walked through town exploring the area around my hotel. I felt a little funny wearing sandals that didn't match and that were barely holding themselves together, but hey, I already look strange and out of place.
As I rounded the next corner, I noticed a man sitting on the ground. He caught my attention because he was positioned precariously close to the cars driving by. That's when I noticed something: He had no feet; both his legs were amputated from the knees down.
Only a few seconds earlier, I was worrying about what other people might be thinking about my funny sandals while this man was sitting on the street with no feet. My junk sandals suddenly seemed worth their weight in gold as I began to realize just how lucky I was that I even had feet to wear sandals on.
Walking back to the hotel, I thought about how frugality and gratefulness are intimately tied together. If we're constantly grateful and aware of everything we already have, our desire for the things we don't have is greatly diminished. When you live grateful, frugality becomes a way of life.
"I was sad because I had no shoes, until I met a man who had no feet." -Indian proverb