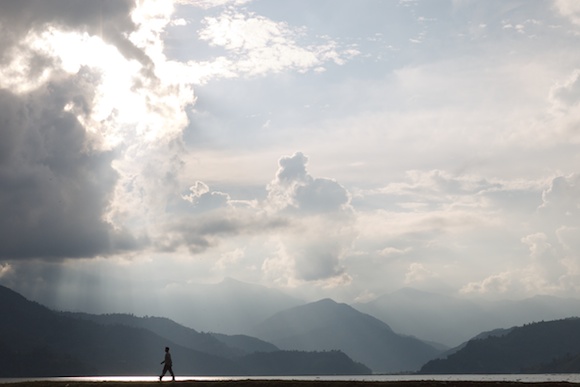 For days after returning to Pokhara, my stomach was upset and my body refused everything I fed it. My head was on cloud nine and my body was endlessly tired. My inner energies were dissipated and my life felt out of whack.
Any attempt to reply to emails, work on writing, catch up with social media, or even explore the city, was met with solid mental and physical resistance. All I could focus on was eating healthy and resting until my health improved.
I could have struggled. I could have sucked it up and battled through it. I could have ignored the fact that my temple was in need of repair and instead focused on work. I could have ignored my own needs and told myself that I needed to sacrifice.
But what good would that have done? How would being selfish towards myself help me in my quest to help others?
The words "be the change you wish to see in the world" are easy to say, but the danger behind the simplicity of those words is that changing ourselves is not an easy task. It's a complex and oftentimes difficult endeavor. In fact, it can be so difficult that neglecting ourselves and choosing to help others is often the easier option!
But there's a good reason why change starts with us. Our body is our temple. If we neglect it, we won't have anywhere to go for shelter. We won't have a vehicle to deliver our good actions. We won't have an instrument to spread our positive energies.
If we let our homes deteriorate, we'll be too concerned with what's wrong at home to spend time working on anything else. We'll become our own distraction.
Are you interested in helping others? Then begin by helping those close to you, starting with yourself. When you've become a professional at helping yourself -- when you've become a pro at being you and fully understanding how you work inside out -- only then will you have the skills and resources to help others.
If there's something close to home that doesn't feel quite right, take care of that first. If your health isn't in order, focus on fixing it. If your family life isn't in order, make the changes necessary to start improving it.
Every day do one thing that improves your situation close to home. Leave your ego behind. Leave your pride and your grudges by the wayside and start making progress forward today. One step today. One action that moves you forward.
When you do this, those around you will feel the energy of the progress you're making and be inspired to improve their own lives. You'll become a tractor of positivity that helps uplift them.
***
It took a bit longer than I expected to get my health back, but I'm feeling much better now. It probably had something to do with how my body was still recovering from the strenuous five-day trek.
While I was recovering, I decided to cancel my one week train adventure at the beginning of September around north India. I had already booked seven trains that would take me from Darjeerling, to Varanassi, to Agra (Taj Mahal), and then to Delhi, but my heart is no longer in it.
I have absolutely zero interest in doing anything even mildly touristy. Going against that feeling is only going to make me less capable of helping others, not more capable. Since all the train tickets were refundable, and since canceling them would pay for a plane ticket from Kathmandu to Delhi, changing plans seemed like this most sensible thing to do.
Now my plan is to go to Kathmandu this weekend to watch a traditional Sherpa dance and, after spending a week in Kathmandu, I'll hop on a plane to Delhi where I'll stay for two weeks before returning to the United States.
I still hope to catch a few classical Indian music concerts in Delhi and I have plans to have lunch with a school teacher to talk about education, but otherwise I'll be relaxing, exercising, and planning what comes next when I return to the States.