At the end of every month, I publish a financial report stating my income and expenses for that month. I do this to help show what it's like living the lifestyle of a digital nomad and to keep myself accountable for my spending.
This past month has been a whirlwind of amazing experiences. Witnessing the final launch of space shuttle Discovery changed the way I view life (again) and put me in a deeply reflective state; it left me speechless and struggling to compose my thoughts for weeks (which explains the lack of new posts).
Attending the second NASA Tweetup and reuniting with everyone who helped me discover that love really is enough has been just as amazing as the first time we got together.
Their collective passion for space is incredibly contagious and their ability to see beyond the weird quirks and extreme contrast in personalities -- accepting each other for who they are -- speaks directly to the humanity in every single one of us.
This blog isn't about personal finance but having promised to publish this monthly financial report, I felt it holding me back from publishing anything else. I'll be writing more about my experiences in the coming weeks.

Housing

The first three weeks of the month were split between staying at my parents house, crashing at the office in Cambridge, and staying at friends' houses. During the last week of the month, I stayed in Florida while attending the NASA Tweetup and shared a house rental near the beach with several friends from the last time I was down there.
I'm still amazed by how low-cost renting a house can be if you've got a few people sharing the cost. It would be hard to find even a cheap hotel around here for less than $100 a night, but we had an entire house for a little more than $100 a week per person.
Food

Last month, food expenses were higher than I expected, but this month it was even worse. I try to eat as healthy as possible, so I usually opt for spending a little more in return for getting something that's healthier. A large portion of the restaurant expenses came from the first week in Florida where I went out to eat with friends during the NASA Tweetup.
I'm discovering that living on the move makes eating healthy and keeping food expenses low very challenging. If I could, I'd eat oatmeal every morning for breakfast, but it's not feasible to carry around oatmeal when I live out of one backpack. Of all my expenses, food is the one area where I need to put more effort into keeping it down.
Travel

The first three weeks of the month were a lot like last month: My mom or dad gave me a ride to the train station and I took public transportation into Boston to work at the office. I also borrowed my parents car a few times, refilling the tank with whatever gas I used.
Towards the end of the month, I flew to Florida and shared a rental car with friends from the NASA Tweetup. We rented a minivan and split the cost between five people, making the cost very affordable for an 8-day rental.
Other Expenses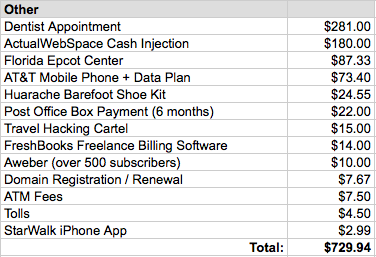 The other expenses for this month are a lot higher than usual, namely the dentist appointment and the cash injection for ActualWebSpace, my small web hosting business.
The Epcot ticket I purchased while in Florida is a perfect example of an unnecessary expense, but spending the money and walking around put me in a very contemplative state. The friends I went with (3D ninja lessons!), and the thoughts and realizations I had while I was there made the expensive ticket worth every penny. I'll be writing more on those thoughts in the coming weeks.
The Huaraches barefoot shoe kit was another expense that wasn't necessary, but I've been trying to find ways to replace my shoes and clothing with more sustainable options. When I learned about the Huaraches, they made perfect sense for both running and daily use. I've been wearing them a lot while in Florida and they're absolutely amazing.
Going over 500 newsletter subscribers caught me by surprise as I had forgotten that Aweber goes up by $10 per month. I'm not earning any income through this blog, so the extra cost feels a bit hard to justify. I took another look at MailChimp and it looks like they've upgraded and improved their software quite a bit since I last looked at them. That said, I really like Aweber's interface so I'll be sticking with them for the foreseeable future.
FreshBooks easily paid for itself this month as I picked up several new freelance projects and used it for tracking time and generating invoices.
Expense Summary

I use Google Docs to track everything, updating the category totals on a daily basis (sometimes even right from my iPhone). Tracking expenses is becoming more automatic now that I've been doing it for two months, but as the habit forms I find myself thinking less and less about how much stuff is going to cost and instead focusing on just writing down the numbers.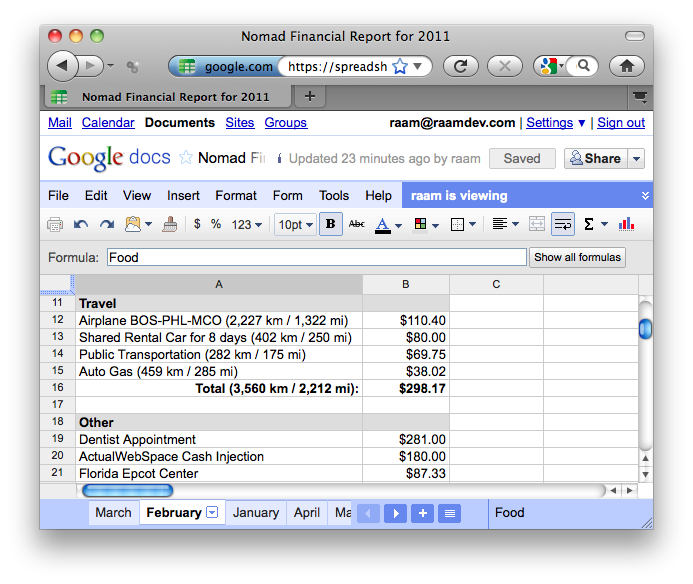 With tracking becoming more automatic, more effort is needed to assess expenses. The food and other expense categories were much higher than I expected and while some things were necessary (e.g., the dentist and ActualWebSpace cash injection), I definitely could have worked harder at lowering my food expenses. For the month of March, keeping my food expenses down will be a primary focus.
Housing expenses were lower than last month, but that's because I asked my dad if I could postpone helping him with house bills so that I could pay for expenses while in Florida. On February 22nd I flew to Florida and shared a house and a rental car for a week with seven of my NASA Tweetup friends.
I'm really impressed by how cheap it is to fly from Massachusetts in the Northeast, to Florida in the South. If you book ahead, you can get a one-way ticket for $89, almost the same cost as the cost of flying from Delhi to Bangalore in India.
Income

I was pleasantly surprised by several referrals on Twitter that brought me unexpected work towards the end of the month. A big project that I've been working on for my previous company is coming to an end, so I'll need to start looking for more work while I focus on building my own business.
As I mentioned last month, the services I offer include PHP software development, Linux server migration, WordPress plugin development. If there's something I can help you with, please contact me.
#
Last month I was thinking about moving back to India, but after seeing a space shuttle launch and having my childhood love for space rekindled for the second time in five months, I'm now considering moving to Florida instead.
The two final launches for the space shuttle program happen over the next five months and if I go to India I will miss both of them. (I've already decided to stick around until next week to catch the Atlas V launch and possibly the return of Discovery.)
Moving to Florida will definitely make finances more challenging, but I think it will be a great way to experiment with living as a digital nomad in the United States. I already know how to live on $200 a month in India, but how cheaply can I live right here in the US?
I also feel a strong pull towards the space community. There seems to be a very important connection between how we reach for the stars and why we care about the Earth and each other. A hundred years ago we were riding horses for transportation. A few days ago, I watched humans ride into space.
Within the span of a few generations, we went from using animals for moving us around to building machines capable of flying to another planet. I cannot think of a better example of how we are capable of absolutely anything we put our minds to.
We decide what we're capable of achieving. We set the limits. Humans are creatures with the ability to shape reality based around what they perceive as possibility.