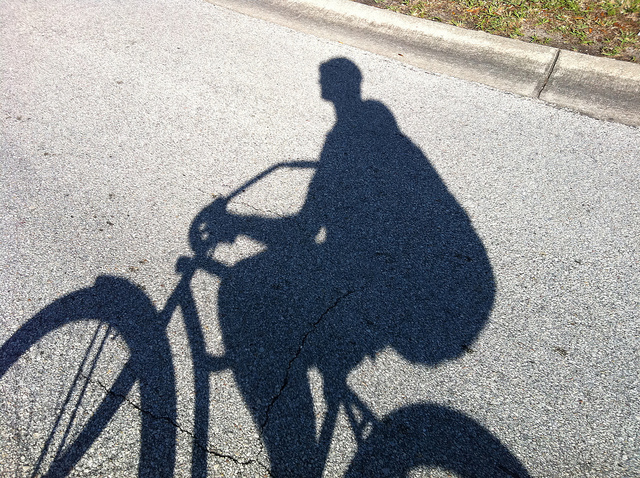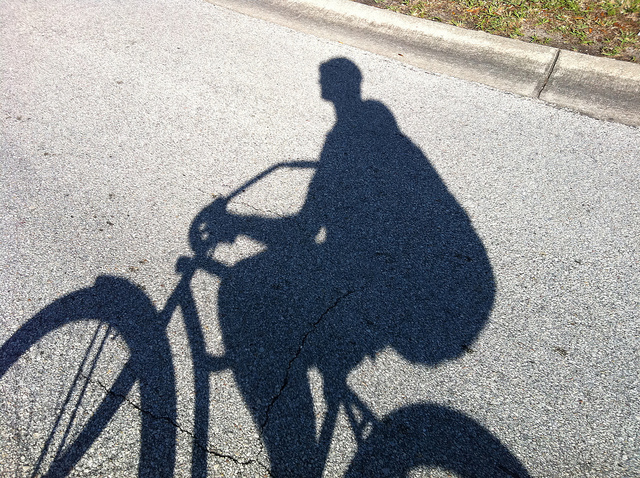 At the end of every month, I publish a financial report stating my income and expenses for that month. I do this to help show what it's like living the lifestyle of a digital nomad and to keep myself accountable for my spending. If these reports don't interest you, you can safely read the first and last sections and skip the rest.
The sun warmed my skin and the wind challenged my face. My feet pedaled at a leisurely pace as I looked around: metal boxes with rubber wheels transporting seemingly lifeless figures.
The weight from the bag on my back -- filled with food from the supermarket -- seemed to tug me back to reality, reminding me of the moment and pulling me into the present. Everything felt so raw, so authentic. A sense of awareness permeated every passing moment.
It was my first day exploring the neighborhood in Florida where I will be living for at least the next month. My roommate let me borrow his bicycle to get around and I had gone out to buy groceries at the supermarket.
Never before had I used a bicycle to transport groceries. For my entire life, groceries purchased at the supermarket were always transported using a vehicle, a lifeless hunk of metal on wheels that assisted us in movement, taking away a piece of reality.
Is that why we so often feel disconnected from the moment? Have the machines and routines that make up our daily lives ripped away our connection to the present?
As the following report will reflect, I spent most of March bouncing between places, riding machines with wings and wheels, watching machines with rockets and boosters, and otherwise not being very mindful of the present.
Using my feet for transportation and spending a lot more time in one place, my lifestyle for the month of April will be much different as I settle into a new apartment in Florida. I'm looking forward to a less machine-dependent lifestyle and a more mindful existence. I'm looking forward to more living.
# #
Housing

At the beginning of the month, I shared a house in Florida with several friends who were there for the NASA Tweetup. When they left, I decided to stay for an extra 10 days to watch the Space Shuttle Endeavor roll out to the launch pad and see an Atlas 5 and Delta 4 rocket launch. I was fortunate enough to have my new friend Chris offer me a place to crash while I was here.
I spent about two weeks at my parents house when I got back from Florida and instead of paying rent I helped them out with a few house bills. At the end of March, I flew back down to Florida and now I'm renting a room in my friend Chris' house for the month of April.
Food

Food expenses this month are the highest they've been all year. That is largely due to all the socializing and eating out I did with my house members during the NASA Tweetup. Our house did some grocery shopping, but we definitely ate more meals in restaurants.
The "cafes" category only contains expenses incurred while sitting in a cafe using my laptop and the groceries are a combination of shared expenses during the NASA Tweetup and food shopping I did while working at the office in Boston.
For the month of April, I'm setting my budget at $250. Now that I'm renting an apartment and have access to a kitchen, preparing my own meals will be easy.
Travel

I was in Florida at the beginning of the month for the completion of the STS-133 NASA Tweetup and the launch of Space Shuttle Discovery. Several members of the house I was staying in split a minivan rental to save on car costs (expensed last month) but when everyone left and I decided to stay longer, I needed to rent my own car.
Changing my return flight at the last minute so that I could stay and watch the roll out of Space Shuttle Endeavor meant paying almost a hundred dollars more for the ticket. But it was a once-in-a-lifetime opportunity, so a no-brainer as far as I was concerned.
Once I was back in Boston, I took public transportation (train and subway) to and from Boston and my parents house. When you look at the cost to distance traveled ratio, it's amazing how expensive public transportation can be.
The auto gas expense is a combination of the 10-day rental in Florida and borrowing my parents car to run errands. Car expenses can add up really fast: I spent $570 between the auto rental in Florida, the auto gas for the rental and my parents car, and parking meters, parking tickets, and tolls (see Other Expenses below).
I also try to track the number of miles I traveled for free, through friends and family giving me rides. By subtracting the expensed distances from the total distance traveled, we're left with 165 "free miles".
For the month of April, I will be using my feet and my roommates beach cruiser bicycle to get around.
Other Expenses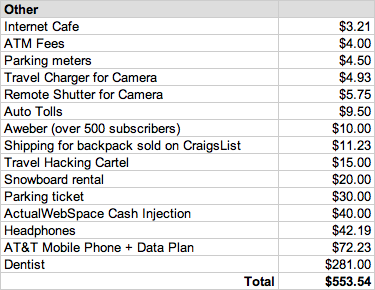 I always try to keep the Other Expenses category to a minimum, but this month a lot of little things added up rather quickly.
When I rented a car in Florida, I needed to stop at an Internet cafe to print out proof of a return flight so that the rental car agency would allow me to use a debit card.
Late in the month I decided to buy a travel charger for my camera to reduce the weight in my bag and eliminate wires. I also picked up a remote shutter to use for when I watch the next shuttle launch.
When I got back from Florida, my old boss bought everyone at the company skiing tickets and he invited me along. I sold my snowboard last year, so I needed to rent one for $20.
I received the parking ticket in Florida when I went down to the beach for 30 minutes. Ironically, I had a dozen quarters sitting in the cup holder. Lesson learned.
I accidentally left behind my headphones when I returned the rental car. After going through my backpack a dozen times, I picked up the cheapest pair of Sony earbuds I could find at the airport. It was an impulse purchase and definitely unnecessary, as they turned out to be very uncomfortable and I later ordered a new pair of Apple earbuds from China for $3.
The dentist appointment was a huge expense this month but I'm really happy with my dentist and I'm hesitant to switch solely based on cost. I'd rather just work harder at taking care of my teeth!
Expense Summary

Overall, March has been the most expensive month this year. I spent $290.20 more on housing, $95.07 more on food, and $634.71 more on travel than I did in February. Other expenses is the only category that was less, with a difference of $176.40. Housing would have been similar to February, except that I didn't help my parents with the bills that month.
At the start of the year I made a note to remind myself that my spending throughout this year should reflect a focus on two things: travel and fitness. I'm happy the biggest increase in expenses this month came from travel and not in anything unrelated to my goals.
For the month of April, I will be aiming to keep my total expenses under $1,000.
Income Summary

While my income was lower this month than last, I worked on a greater number of small projects with several new clients. The big projects that I was doing for my previous job are largely complete, so moving forward I will be relying more heavily on an increase in smaller projects.
The smaller projects in March included several blog migrations from WordPress.com to self-hosted domains using WordPress.org. I've also had a few requests for making adjustments to WordPress themes and enhancing WordPress security.
If I can help you with any WordPress-related work, please contact me.
Towards the end of the month I sold a hiking backpack for $75 that had been sitting at my parents house.
# #
As I mentioned briefly at the beginning of this post, I've decided to move to Florida for the month of April so that I can be here to watch the Space Shuttle Endeavor launch. It very well could be the last launch of the shuttle program (NASA may not have enough funding for the launch in July).
While I'm here, I will be living as frugally as possible, using a bicycle for transportation, and spending a lot of time working from my new apartment. I will also be heavily focused on fitness and I've already begun running every day (you can follow my runs on RunKeeper).