This is the sixth and final report detailing my travel expenses during a six-month trip through India, Vietnam, and Nepal, as outlined in The Plan: 6 Months, 3 Countries, and $3,000.
Frugal Travel Reports
March 2010 (includes Pre-Travel expenses)
April 2010
May 2010
June 2010
July 2010
August 2010
***
At the beginning of the month, I took an unplanned three day trip to visit two small towns in the mountains north of Kathmandu where an NGO is helping build schools for children in Nepal. That last minute decision turned out to be the highlight of my entire six month journey.
After returning to Kathmandu, I went with a friend to Pokhara where we spent six days trekking in the Himalayan mountains. When we were finished, my friend returned to Kathmandu but I stayed behind to spend an extra week in Pokhara.
I then took a bus back to Kathmandu where I spent one week in the now familiar backpacker district of Thamel. Of the eight weeks I've spent in Nepal, five were spent in Thamel. Although it's probably one of the most expensive places to spend time, it removed any need for transportation and made getting online easy and (at least somewhat) reliable.
***
Lodging

At the beginning of the month, I spent two nights visiting the schools in Kahule and Bhalche. The two brothers from the non-profit organization provided me with free lodging for the trip (once in a guest house and once in their private home, perched on the side of a mountain above the clouds).
While I was trekking outside Pokhara, my friend and guide paid for all the expenses. I paid him back at the end of our trip in one lump sum, however I estimated the lodging cost at $4.50 per night (350 NRS).
In Pokhara, my friend negotiated a good rate for a guest house right on Lakeside (the main tourist strip of Pokhara) at $3.30/night (250 NRS). The room wasn't very clean, the toilet required manual flushing (I had to reach my hand into the tank and pull the lever manually), and there was no room service, but it was a place to sleep. After spending several weeks in a room without a bathroom (the cheapest room at Kathmandu Guest House with shared bath/shower), I now consider any room that has its own bathroom to be a plus.
When I returned to Kathmandu, my friend invited me to stay at his place for free. However, it would've meant commuting into the city every day to get Internet access and since Kathmandu Guest House offered me a cheap rate ($6/night) and they had in-room WiFi, I decided to stay in Thamel.
The last three nights of the month I won't be incurring any expense as I will be staying with my relatives at their home in Delhi.
Food

As with last month, food expenses this month were exceptionally high for Nepal. I attribute this to the time I spent in the Himalayan Java cafe in Thamel, the Olive Cafe in Pokhara, and the higher priced food during the trekking. I estimate that it cost me approximately $6.60 a day (500 NRS) for my meals during the six days of trekking.
I was sick for most of my stay in Pokhara, so skimping on food or trying to watch my food expense was the last thing on my mind. In Kathmandu, I returned to my routine of breakfast and lunch at a cheap Nepali restaurant and coffee and dinner somewhere more expensive (an organic cafe).
The first three days of the month when I visited the schools, and the last three days of the month where I stayed with relatives, there was no food expense.
Transportation

The eight hour trip to and from visiting the schools at the beginning of the month was covered by the two brothers who showed me around (I rode on the back of a motorcycle on the way there and took a micro-bus on the way back).
For the eight our journey from Kathmandu to Pokhara, we took a comfortable tourist bus for $6.60 (500 NRS). We then took a local bus to and from Nayapul (the village where we started and ended our trek). There were a few other local buses in between while we were in Pokhara. My bus from Pokhara back to Kathmandu was a cheaper $4.70 ride (350 NRS).
Taxis were used a few times in Pokhara to get from the bus station to the guest house and three times in Kathmandu to get from the bus station to Thamel, from Thamel to Bhaisipati (where I watched traditional Sherpa music being recorded by BBC Radio in a private home), and from Thamel to the airport to catch my flight to Delhi.
When I arrived in Delhi, the taxi from the airport to my relatives home was a tad expensive at $10.66 (480 RS) for the 20km trip (12mi). But we got stuck in traffic for two hours (yes, two hours to go 20km/12mi) so I guess it was worth the price.
The plane ticket from Kathmandu to Delhi was the most expensive transportation cost, but when I learned there was a huge Japanese encephalitis outbreak in the same district that I would've passed through had I stuck with my original plan to make the trip over land, I was happy to spend the extra money. Japanese encephalitis was one of the vaccines I decided to skip six months ago because of the cost.
Total Distance Traveled: ~1,528km (~950mi)
Other Expenses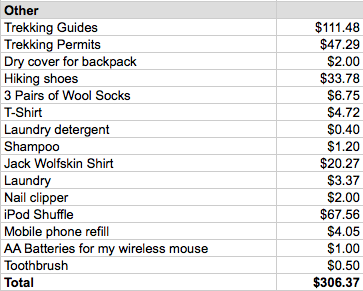 That's quite a list! As a minimalist traveling with one backpack who advocates frugal travel, you might wonder what's going on here. Let me explain.
The first six items on the list are related to my decision to go trekking. My friend and his cousin, both trekking guides in Nepal, paid for all the expenses during the six days we were gone. At the end of the trip, he said the total expenses were between $150 and $200. I estimated that $70 of that amount were my own expenses and the remainder were my friend and his cousins' expenses. (I had no problem paying for their expenses since they did such an awesome job showing me around.)
The trekking permits were non-negotiable and were required at checkpoints along the trail. It rained on and off during the trek, so the dry cover for my bag was essential. I only had my Vibram FiveFingers for shoes, so hiking shoes and socks were also needed (I originally bought two pair of cheap wool socks, but after the trek both pair were full of holes; I bought one more pair of higher quality socks for the rest of my trip). Hiking in the heat with a long-sleeve shirt is no fun and since I had no t-shirts with me, I picked one up.
The laundry detergent, shampoo, toothbrush, mobile phone refill, and AA batteries should all be self explanatory. Since the hotel had shared showers and no bucket to wash my clothes, I used the laundry service twice in Kathmandu. I also got tired of trimming my nails using the knife on the multitool that I bought last month, so I finally gave in a bought a nail clipper. The multitool and nail clippers couldn't be taken on the plane, so I gifted the multitool to a friend and left the nail clippers for the maid at the hotel.
The iPod Shuffle was an item that I spent several days contemplating when my iPhone died just after we arrived in Pokhara. I was left without any way to listen to music and I knew that I had an eight hour bus ride back to Kathmandu, a plane ride to Delhi, and then a 20+ hour flight back home ahead of me. I love music and it really helps pass time, so my options were to buy a cheap knock-off MP3 player for $30 or an iPod Shuffle for $67. I realized that I'd be able to resell the Shuffle for at least $40 when I got back home, while the knock-off MP3 player wouldn't resell for anything.
And finally, the Jack Wolfskin shirt was a replacement for the brown long-sleeve shirt you've seen my wearing in a several photos and videos. That brown shirt is two years old and has several tears. When it began smelling of mold even after being washed, I knew it was time to replace it. Good quality shirts that would sell for $80 back home can be found for $20 in Nepal, so I picked one up to replace the brown shirt.
Summary

If you subtract the iPod Shuffle, the expenses from trekking, and the plane ticket to Delhi, it brings this month's expenses down to $430, much closer to my monthly target of $250. However, I didn't try very hard to stay within budget this month and several unexpected expenses cropped up.
I also made the slightly more expensive decision to fly back to India instead of going over land. However, it's a decision that allowed me to avoid an area where an outbreak of Japanese encephalitis has already killed more than 200 people.
Of my initial $3,000 six-month budget for this trip, I've now gone about $2,000 over and that puts my average monthly expenses at around $600 a month. Of course those expenses included several plane tickets (from India to Vietnam, Vietnam to Nepal, Nepal to India) and also Visa expenses (Vietnam and Nepal).
This is my last full month abroad and by the middle of September I will be back in the United States. Once I get back to the States, I will do one more report to summarize the entire six month trip. If you haven't subscribed, be sure to get on the email list or grab the RSS feed to stay updated.
***
I will spend the next two weeks in India relaxing and working from the comfort of my relatives home in Delhi. Their home is located on the top floor of a gated community, next to the brand new metro line which goes squeaking by every ten minutes or so.
The journey from Kathmandu to Delhi was uneventful, with the exception of going through security at the Kathmandu airport: Twelve security checkpoints, three metal detectors, and my entire bag emptied not once, but three times (they weren't singling me out, they did this to everybody).
For most people, emptying their backpack wouldn't be a big deal, but when every single one of your possessions is in that bag -- everything you've carried with you for the past six months -- emptying your bag becomes quite an ordeal and a bit more personal.
Arriving in Delhi, there was something about smelling the air that brought back a surge of memories, emotions, and a sense of familiarity. I'm not sure if it had something to do with having spent my first three months abroad in India or if I was feeling a strong sense of connection; a sense of belonging.
I can't help but wonder what smelling the air back home will be like when I return in two weeks.