Coffee is the one thing that I have tried to quit several times over the past few years and failed (it's been my new years resolution several years in a row). Failing is not like me. If I want to quit something, I just do it. I've never been addicted to anything in my life... except coffee.
I started drinking coffee with cream and sugar when I was 16. When I got into fitness a few years later, I slowly decreased the amount of cream and sugar in the coffee until it was black. From that point on, cream and sugar in my coffee ruined it for me so I continued to drink it black.
The average cup of black coffee contains between 115-175mg of caffeine. More than 300mg of caffeine a day on regular basis has been shown to cause several negative side effects, including increased urination (and dehydration as a result), disruption of normal diet (drinking coffee when hungry makes you no longer feel hungry, even though your body needs food), headaches, irritation, and mood swings. I have experienced all of these, but I'm only now beginning to realize how much they're affecting my fitness and overall health.
I recognized a pattern in my coffee consumption. Over a three month time span, I would go from drinking 1 cup to 4 cups of coffee per day. Eventually I would feel so sick of the high caffeine intake (or its side effects) that I would drop back down to 1 cup a day, only to begin the process all over again. Here's a chart of what I'm talking about: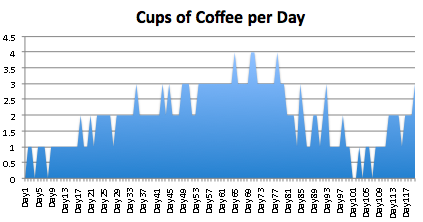 For some reason I've felt extremely motivated and strong about the fitness goals I set for this year, so since I'm on a roll I decided to go cold turkey on coffee last Tuesday (February 17th). The first few days were rough. Tuesday the bad headaches started. Wednesday the headaches were slightly better, but the mood swings crept in (mood swings are rare for me, so it was easy for me to recognize them). Thursday it was a combination of mood swings and headaches but by Friday the side effects were starting to wear off.
I had considered leaving the weekends open for one or two coffees, but I remembered when I did that in the past it resulted in eventually making exceptions during the week. I almost gave in on Saturday, almost. Today is Sunday and I can already feel my desire for coffee is slowly but surely wearing off. I feel so much better overall. I'm able to wake up easier in the morning, I'm spending less, my diet and digestion are better, and I don't feel this constant need for something external to keep me going.