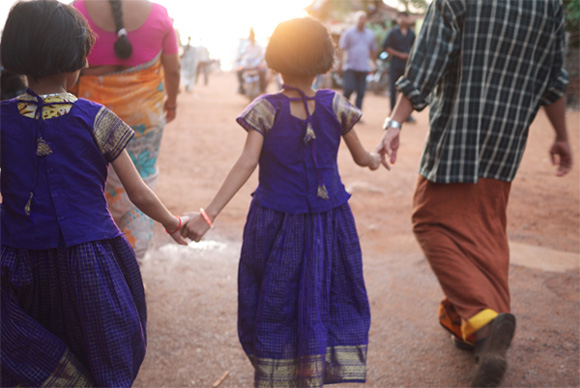 I read somewhere recently that bloggers should be transparent to ensure authenticity. It made me think about my own writing and question whether or not I was being fully transparent with you, my readers.
I wondered, what does it mean for me to be more transparent? Since I'm traveling, does it mean writing about the little things that I generally avoiding talking about? Does it mean sharing my thoughts more often?
Perhaps I could write about my worries of running out of money or the several cases of mild travelers diarrhea that have started to get annoying. I could write about how I sometimes feel guilty for spending too much time in high-end cafes, enjoying the air conditioning and delicious coffee when I should be outside exploring the small local shops. (In my defense, it was a safe place to work on my laptop.)
What about writing how I felt for ignoring the handicapped guy with no legs who extended his hand and asked for money while I was in the beach town of Gokarna? If I help him, I thought, why shouldn't I help all of them? How do I choose who receives help?
What about the mother holding her undernourished child in her arms who approached me begging for money with a desperate look in her eyes? I looked her in the eyes and smiled. I wanted to at least treat her human; if nothing else, that was the least I felt I could do. But it almost made me feel evil, as if I was smiling at her misfortune.
Or what about the little boy who came to my seat when the train stopped at a station between Surat and Ahmedabad, who repeatedly tapped on my shoulder for five minutes asking for money while I looked out the window trying to pretend I didn't know he was there?
Or the little girl with scraggly black hair and skin that looked like it hadn't been washed in weeks who stood in front of me putting her tiny hand to her mouth trying to tell me that she was hungry? I gave her all my remaining crackers but she still stood there asking for money. What should I have done then?
What about the young man from Jaipur, about the same age as myself, who approached me on Marine Drive in Mumbai and walked with me for ten minutes while we chatted together about where we were from and how we came to be in Mumbai. He talked about how difficult it was to find work without proper paperwork and that he was forced to take up the only job he could find: shining shoes. Towards the end of our chat, he asked me again if he could shine my shoes. Ten rupees? Five rupees? He says he is hungry. He just wants to eat.
What do I say to him?
No matter how many times it happens, it's just as difficult each time. I wonder if I'm being cold-hearted turning these people down. What is the right thing to do in such situations? What is the moral thing to do? I can't possibly take everyone out to eat or give money to every person that appears to need it.
The more poverty I see, the more my brain goes crazy looking for solutions -- looking for ways to help all these people. There must be a way.
There is so much wealth in this world that nobody should need to go hungry. No mother should need to beg to keep her undernourished child alive. No child should need to plead with strangers for food.
Why, with so much abundance in the world, is there such a large population of human beings who are living in poverty and fighting for the most basic human needs?
Why, with so many natural resources and so much scientific advancement, is planet Earth slowly decaying and becoming a galactic waste dump?
Why, with so much understanding of the human body and medical know-how, are people becoming less healthy and more sick?
It's absurd. It makes absolutely no sense.
Sustainability? The priorities are all wrong!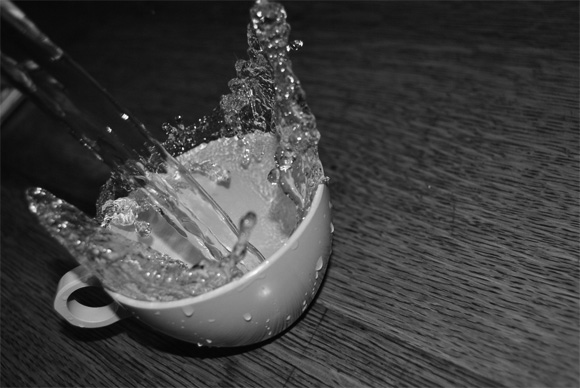 There is so much talk about sustainable energy and economic growth because politicians and businesses see those as the most profitable ones to talk about. They allocate money, energy, and time for those and ignore everything else.
What about sustainable growth of the human race?
What about sustainable diets and sustainable health? What about sustainable agriculture? Anyone who does the math can see that meat-based diets are not sustainable long term; we will simply run out of room and resources to feed the animals.
What about sustainable wealth? Sustainable equality? Sustainable living? Sustainable relationships? Sustainable families? Why don't we hear discussion for sustainability stretching out 200, 300, or 400 years? Why the short-term perspective of only a few decades?
The accumulation of abundance is something that comes naturally to us, but sustainability is something we need to work at. We need to plan for sustainability. It needs to be a forethought, not an afterthought.
We can't obtain abundance and then think about sustainability. It just won't work. By the time we start thinking about sustainability, our abundance will already be slipping away. You can't fill a small cup with a gallon of water and then decide to get a bigger cup. You need to start with a bigger cup in the first place!
Life is the same way. Abundance will come. Wealth will grow. Science will advance. Populations will expand. What we need to be focusing on is how to make that abundance sustainable long-term.
On an individual level, the abundance we accumulate -- be it in the form of wealth, possessions, knowledge, and even skills -- should only be accumulated to the point where we can provide for our families. Anything beyond that point should be given back to the community, to those who need it.
Wealth of any type, just as love, must be shared to be fully realized.
Giving back to the community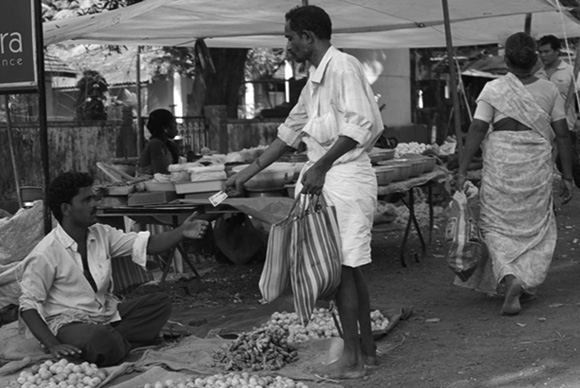 Even though haggling comes naturally to me (I come from a family known for getting the best deal), when I purchase something from a local market here in India, I don't haggle the price. I realized something traveling in a third world country for the past three months: The one sustainable way for me to help those in need is through the local businesses.
If I give the local shop owners extra money, I'm improving their lives in a small way. They in turn are more likely and more able to support the people who are even poorer. (Of course when it's obvious that I'm getting ripped off, I might haggle the price a little lower, but for the most part I don't argue.)
Of all the people in the world you could haggle with, why would you do it with those who need the money the most? Penny-pinching big corporations, chain stores, or people who are genuinely greedy and already living above their means is understandable. But haggling with people who will use the extra money to feed their undernourished children? That just seems morally wrong.
As I travel the world, my own excess value -- the abundance that I have too much of that needs to be given away -- is beginning to emerge. I see that I have a unique perspective, endless ideas, and the ability to communicate to others through writing.
In comparison to the entire world population, my technological knowledge and ability to use a computer -- the ability to publish online, to connect with people from all over the world, and to spread ideas -- is extremely valuable. I am extremely fortunate to be in a such a position.
How can I use those skills to help the poor people who are trying to feed themselves? What can I do that will improve the world?
Over the course of my entire life, where can I put my time and energy to ensure that I leave behind an Earth where people don't have to beg to survive; where all children get education and food; where everyone has equal opportunities?
I find myself asking these questions more and more with each passing day and my head is simultaneously flooded with ideas for things to try and frustration for being unable to flip a switch and instantly make everything right.
--
The first thing each of us needs to do is identify what we have in excess and figure out the most efficient way of passing that on to those who need it.
Think about what you have a lot of -- be it physical things, monetary things, knowledge, skills, experiences, ideas, wisdom, love, happiness, anything -- and ask yourself, how can you give that value to someone who needs it?
Hoarded abundance isn't sustainable; shared abundance ensures there will always be enough to go around.