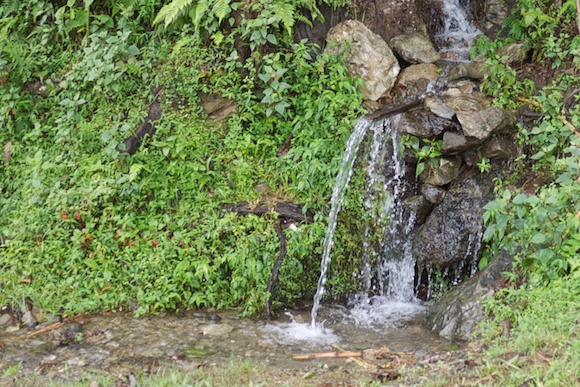 Many people had told me that taking an airplane would be safer and on several occasions I found myself wondering if I should've listened to them. The eight hour ride on a tourist bus between Pokhara and Kathmandu wasn't the most comfortable, but that's what I get for spending $5 to take me more than 280km (170+ miles) over mountains where the roads were littered with evidence of total failure.
As I gazed out the window and watched the landscape change from city to mountainous countryside and then back to city, I couldn't help but feel saddened by how enthusiastically the cities seem to grow. So much pollution, waste, and destruction follow in their path leaving the Earth malformed, blackened, and bare.
It's the monsoon season here in Nepal and the rivers are raging. Small streams of water trickle down everywhere from the green mountains. The locals often cut the bottoms off old plastic bottles and use them as funnels to create small water spouts. More commonly though, they use flat stones or pieces of bamboo sliced in half to create channels that direct the trickling streams into neat little picturesque waterfalls.
These water spouts are used for everything from filling buckets of drinking water, to washing clothes, to brushing teeth, and yes, even for taking a shower (on one occasion, the waterfall pictured above was my shower). All of this activity often takes place on the roadside, fully visible to passing traffic.
As the bus approached Kathmandu and the human creations mixed with mother nature at an increasingly depressing rate, I looked at one of those simple bamboo waterspouts and thought about what I would find in its place in the developed world: a complex network of manufactured plastic and copper pipes.
It got me thinking about how when we choose to take matters into our own hands and create things that we feel nature isn't already providing for us, we become fully responsible for those creations. When we create, we become responsible for what nature has found a way incorporate by default: sustainability.
Reusing plastic bottles for anything at all is a lot better than just buying and tossing them, but I realized that this need for responsibility extends much further than just plastic bottles. It extends much deeper than our desire to change and control our environment.
We're constantly creating things whether we realize it or not. Wealth. Relationships. Responsibilities. Problems. Circumstances. Risks. Thoughts. Feelings. Ideas.
When we create wealth for example, we have a responsibility to use that wealth to support the growth of things that will be conducive to harmony. That means choosing how we spend our money wisely. It means using our knowledge and our potential in ways that contribute to positive growth.
When we create a relationship, we have a responsibility to nurture trust, honesty, and respect. That means having integrity and being reliable. It means sharing, communicating, and offering help without asking for something in return.
When we feed our body we're providing it with fuel to create new cells and as such, we have a responsibility to ensure that our creation is harmonious with nature. That means eating healthy and exercising to maintain a full range of functionality and maximize long-term well-being.
Life is creation. Life is responsibility. Failing to accept responsibility is failing to accept life.
Are you taking full responsibility for all the things you create or do you create and then hope that somehow nature will lend you a helping hand? That somehow everything will turn out OK if you ignore the problems with your creation?