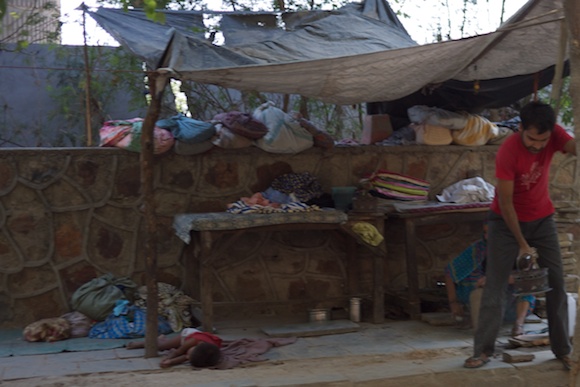 Every time I have heard the response to what someone would do given a billion dollars, the answer always includes doing something that would change the world.
People are genuinely good at heart. Everybody wants to make the world a better place; everybody wants to help. Why then is there so much poverty and suffering in the world?
The answer, I believe, lies in our mindset towards life -- the established set of attitudes that we hold towards living, working, and existing. Such a mindset is not easy to change on a large scale, especially given that living standards generally remain the same, or improve, from one generation the next.
Most of us live in a bubble. We don't see the full picture of what's going on in the world. OK, we at least have an idea. We read news stories and blog posts, see pictures, and even watch videos. We have a general idea of what it's like out there. We know the world isn't all smiles and love.
Why do you exercise? Why do you eat desserts? Why do you go on vacation? Why do you laugh? Why do you dance? Have you not see news stories, pictures, blog posts, and even videos of all those things?
You do them because experiencing them firsthand is the only way to really experience them and bring about change. When someone asks you what the dessert tasted like, you can explain it. When you exercise, your body responses by becoming healthier. If you only watched a video, would you be able to gain the same experience or induce the same change?
By living in a bubble, physically isolated from the parts of the world that need change, your mindset is not going to change no matter how many videos you watch. Your daily actions, the choices you make, and your attitudes towards life will not be affected the same way as they would if you witnessed the poverty firsthand.
Many people living in third world countries also exist in a bubble. They have high living standards, clean water, abundant food, and easy transportation. They lock their doors, roll up their windows, live in gated communities, and isolate themselves from the outside world, from the part of the world that needs to be recognized the most.
As long as those with ability to change the world isolate themselves from the part of the world that needs change, those people are not going to be fully equipped to change the world.
World peace requires people with a mindset for change; people who have experienced and witnessed firsthand the things that need changing and who unconsciously make choices that are conducive to positive change.
That doesn't mean you should give up your position in the developed world and become a beggar on the streets of Old Delhi -- that would be selfish! You're in a position to change the world. The world needs you to maintain that position and use your power to become a pioneer of sustainable abundance.
Even a short exposure to the third world -- several weeks or months is best, but even a few days of travel through poverty-stricken areas is enough -- will change your mindset in a way that promotes world change.
The other day while browsing the web, I read a blog post that had a picture of a fancy house. It looked similar to the house I grew up in; a brick house with green bushes surrounding a big white front door.
Instantly, the very first thing that came to my mind wasn't home, but an image of the family of four living on the sidewalk outside of the place I'm currently staying. The children sleep on a piece of cloth on the ground; the roof of their home is made up of plastic strung between two trees. The parents run a laundry ironing business from a wooden table propped up against a stone wall.
This family is lucky to have a clean, safe place to live and a job to feed themselves.
Suddenly I realized why seeing things firsthand is so important. If everybody thought of that family of four when they looked for a house to buy, how many people would be buying six-bedroom, four-bath houses for their family of four?
75% of the world's population lives on less money than a kid working minimum-wage at a fast-food restaurant in the United States or Europe. If you're reading this blog post, changes are you're rich compared to most of the world's population. Think about that the next time you're buying something.
Everybody who can afford to travel on an airplane can travel to a third world country. Many people dismiss the thought of traveling to third world countries out of fear or concerns for their safety. But those fears are misplaced.
Things are not as unsafe as people would make you believe (certain obvious countries excluded).
You might get sick, but you can greatly reduce the chances by using commonsense. The risk of death is less than the risk you take driving to work.
You are the one with money; you can control the situation. You choose the taxi, the hotel, and the food. If something doesn't feel right, you can choose something else.
There are plenty of "touristy" things to see and do in third world countries, so if that's your thing, you don't have to treat the trip as a purely mindset-changing event.
There is simply no alternative means of really changing your mindset. No news story, magazine article, blog post, or video is going to give you the same experience.
The greatest benefit of traveling to third world countries is its potential to change your mindset, thereby increasing the chances you will affect the world in a positive way.
One of the best ways to ensure this change of mindset occurs when you visit a third world country is to really pay attention to the way poverty-stricken people are living. Soak it in. Look at the map and take a rickshaw or taxi through a poor area (you don't even need to leave the taxi if you don't want to).
I'm traveling through two third world countries (India and Nepal) and one second world country (Vietnam) over the course of six months on a budget of $3,000 USD. I'm not living on the street. I didn't take a boat to get here. I'm not dying of sickness. I'm not being shot at or mugged. The only thing that's changing is my mindset, and subsequently the likelihood that I will do things in my life that will change the world.
If you really would take that extra billion dollars and do something to improve the world, then why not take the money you save for your next vacation and do something that will make you a more capable pioneer of change?