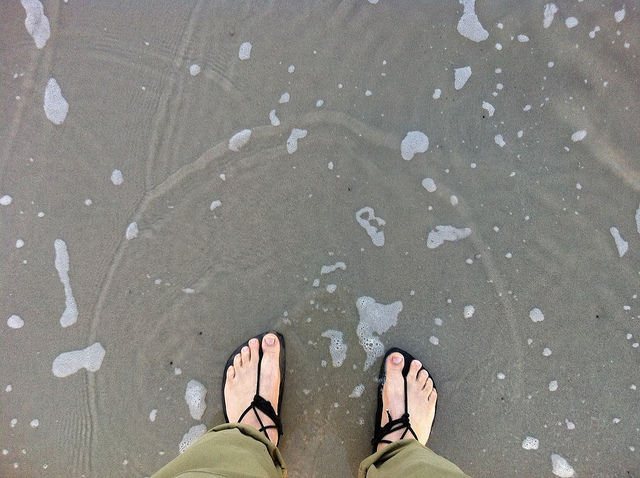 My mouse hovered over the "Confirm Order" button as I glanced back at the order total: $112.02 with shipping. I took another look at the item description, reading it over and over as if waiting for a voice to start reassuring me that this is what I needed.
The pressure between my finger and the mouse increased. Should I press it? Will I regret spending this money? How will I justify this purchase when I do my monthly expense report?
Relaxing my finger, I looked up from the laptop and stared at the trees outside. What would be the sustainable choice? What would be the responsible choice?
If I replicated my choice across all seven billion people on the planet and then amplified those seven billion choices by several generations, would I be left with something sustainable or something that contributed to an unsustainable future?
Looking at it from that perspective, the answer was obvious: Spending a hundred dollars to purchase minimalist running shoes that required special materials and special machinery to create simply wasn't sustainable.
That's when I remembered reading about sandals called huaraches, often made from old car tires and used by the indigenous people of northern Mexico, the Tarahumara, who run hundreds of miles a week.
A few Internet searches later and I was placing a new order, this time for a small square sheet of rubber and two pieces of string: a huaraches kit for building my own pair of minimalist running sandals. The order total with shipping? $26.32.
Not only was this choice more sustainable but now I would learn how to make my own shoes. If they needed to be repaired, I would know how to repair them. If I wanted to take the design and actually use old car tires (or the soles in an old pair of shoes), I would have the skills to do so.
I'm not suggesting we toss out our shoes and start wearing huaraches -- that wouldn't be sustainable. We should maintain and reuse what we already have; generating waste in attempt to be more sustainable just doesn't make sense.
By using and reusing what we already have instead of purchasing new, we're simultaneously helping ourselves and the planet by solving our problem and removing waste from the environment.
Traveling through India on a budget of $250 a month and living with one backpack has taught me to value and appreciate the potential every item has for being reused. Comfort and aesthetics seem much less important now than they did just a few years ago.
When I stayed on the beach in India and discovered the sand was too hot to walk barefoot, I didn't run out and buy a new pair of sandals. Instead, I spent five minutes scavenging the beach for a matching pair that I could reuse (city-dwelling Indians often try swimming in the ocean with sandals, leaving upper parts of some beaches littered with lost footwear).
(Two weeks later, standing at the top of a windy hill overlooking the Indian ocean, I recorded the preamble to this post, a short video sharing my thoughts around the need to be sustainable .)
It seems that thinking sustainable comes more naturally when we aim to live frugally, but we definitely need to go a step beyond frugality. Much like voting for poverty, our buying choices, no matter how frugal, can also be a vote for an unsustainable future.
We need to educate ourselves and learn where materials come from and where they go. We need to learn about the food we're eating and what it does to our bodies. We need to constantly reevaluate our lifestyle and question whether what we're doing can be sustained.
We need to think sustainable. We need to scrutinize every choice and every decision we make and ask ourselves if what we're doing is sustainable for ourselves, for the planet, and for the future of humanity.