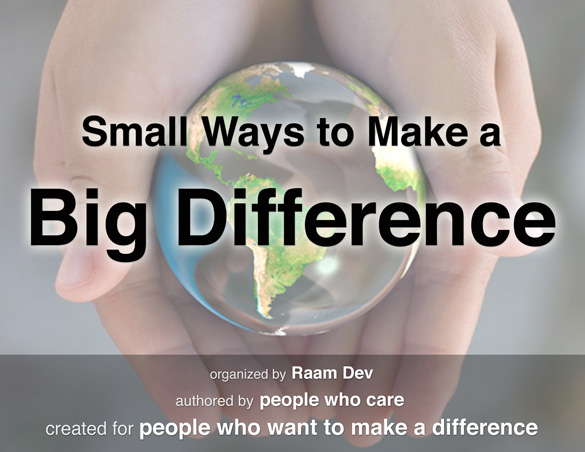 Exactly three weeks ago, I started working on a collaborative project that had no name. I sent out dozens of emails requesting participation and quickly realized that I needed some way of organizing the emails so they wouldn't get lost. So, I created a tag in Gmail for this project and I named it with the first thing that came to mind: "Change the World".
Every time someone replied to an email for the project, the "Change the World" tag in my Gmail account lit up and it put a smile on my face.
Every time I got an contribution, it reminded me why I was doing this project. It reminded me that there are so many people all over the globe who genuinely care about this world and who have ideas for how to make it a better place.
In just three weeks, over 40 bloggers contributed more than 100 ways to live more sustainable, to live happier and healthier, to get more out of life, to inspire and share, to reconnect with our true selves, to be a leader, to exist more intelligently.
More than 100 ways that you can begin setting an example to be the change you wish to see in the world. More than 100 ways to make a difference in the world right now.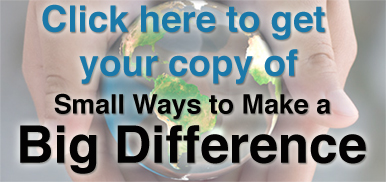 Please visit the page for Small Ways to Make a Big Difference to download the PDF ebook and share it with the world.
It has been a privilege to have had the opportunity to organize this book. The quality and quantity of contributions surpassed everything I could have hoped for and the real authors of this book are the contributors themselves.
It's my hope that you will find as much value in this ebook as I found while preparing it. This ebook is free and will forever remain that way. All of the content is licensed under the Creative Commons Attribution 3.0 License, which means you can do with it as you like so long as you don't make money from it or pass it off as your own work.
***
If you've been reading this blog for the past few weeks, you've heard how traveling through India, Vietnam, and Nepal has transformed my sense of purpose. This project is my first step on that new path; my first step towards helping empower people be the change they wish to see in the world.
With the release of this project I'm also launching a newsletter and I invite you to join our community of passionate changemakers and share your thoughts, your wisdom, your insights, and your perspective. But most of all, I invite you to take this ebook and start setting an example for others to follow.
Mohammed Ali said, "Service to others is the rent you pay for your room here on earth." This ebook is my first payment on an account that is long overdue. I look forward to the journey ahead and to sharing every step along the way with you.