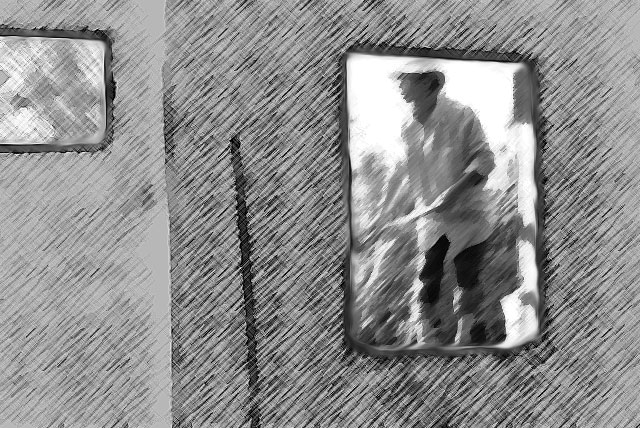 This essay is the third in a four-part series on income ethics. The series describes my discovery of a need for income ethics, explains why we need to define our enough, discusses the problem with art and equality in the digital age (this essay), and lays out the income ethics that I have defined for my own creative work. If you'd like to follow my work, please subscribe or check back here for updates.
The art of expressing and conveying ideas through the medium of writing wasn't something I consciously learned, but rather it was a seed that sprouted inside me at an early age. Up until recently, I had only treated the growth of that seed as a passionate hobby, a fun talent that I would enjoy when I had the opportunity and the inclination to do so.
But the transition to simple nomadic lifestyle combined with the experience of traveling through developing countries had not only opened my eyes to a planetary social responsibility, it also allowed me to recognize the full potential of my creative work in a globally connected society.
The combination of feeling a planetary responsibility and recognizing the potential of my creative work necessitated the need to dedicate more of my time to sharing that work and contributing to the world in a way that best utilized my skills, talents, and passions. It was no longer enough that I dabbled in creativity when the urge presented itself.
Living as a nomad and focusing on creative work required very little income, but after a year of living hand-to-mouth and leaning on the goodwill of friends and family, it became apparent that even a simple lifestyle requires some income, a means of supporting oneself and obtaining the ability to redirect abundance to those in need.
If we're not able to fully take care of ourselves, we cannot fully help others. When our needs are met, we can serve others, and when we have more than we need, we can do more to serve.
Note: In the context of this essay, the terms 'art' and 'creative work' are used to represent a tangible manifestation of creative effort; the terms 'artist' and 'digital artist' are used to represent the individual doing the creating. There is a difference between knowledge work and creative work: the former involves the skill of understanding and working with information and the latter involves the creation of new and unique things.
The Missing 'Enough' and a Broken Status Quo
As I began to think about how I could earn a simple living through my creative endeavors, several things felt wrong about the way others were currently monetizing their creative work. I found there were no limits in place. There was no monetary ceiling, no way to be held accountable, no definition of 'enough' and no dedication to maintaining that enough.
This lack of knowing what's enough often led in one of two directions: 1) the artist stopped creating art altogether, refocusing their monetary efforts away from creating the art they loved because 'their' art didn't seem to sell, or 2) they became so successful that their work stopped being about art and instead became an automated system of receiving income; their work transitioned from the creation of art to the art of managing the flow of income.
In addition to this risk of being distracted by income, it also troubled me that putting a price on my work seemed to create and support the global inequalities that I wanted to help eliminate. For example, if I sold a piece of work for $20USD, people in the more affluent areas of the world might be able to afford it while someone in a developing country might need to spend all their wages for an entire month to make the same purchase.
As soon as I put a price on my work, I effectively caged it and created walls that many people would never be able to climb. The work would eventually disappear into a monetary black hole, dying a quiet death in the shadows where a large percentage of the world would never see it.
Isn't the point of creative work to create something that can outlast us? Isn't the reason we create to share an artistic expression of ourselves, to create a tangible manifestation of our creative effort? And if so, why would we release and share our work in a casket?
The problem of pricing digital art intrigued me the most because it was such a fundamental problem. Every digital artist I had met spoke of the difficulty in finding 'the right price' for their work. There are all kinds of strategies and tactics that can be used to gauge what prices our audience will tolerate, but that seemed like a bandaid to a bigger issue.
Pricing Digital Art in the Global Marketplace
It's only in the past twenty years that the human species has started publishing creative work en masse to a globally accessible digital medium, so I decided to think about how art in the physical world compares with art in the digital world. It's likely that the problems with digital art originate from our inexperience operating in a global marketplace and from the unconscious application of methods used for selling non-digital art in localized marketplaces.
If you want to buy an original oil painting from a well-known artist, it will cost a lot of money because that piece of work required a huge time investment from the artist. The artist is only one person and they only have so much time available to create new work.
In the digital world however, if an artist creates a piece of digital art (i.e., creative work of any type: writing, audio, video, or graphical art), they can sell as many copies of that work as they want with no additional effort and essentially no additional cost.
When it comes to pricing that work, this causes all sorts of problems.
If a non-digital artist allows his physical artwork to be copied, pricing can start with the current valuation of the original and then, based on the quality and number of copies being created, a logical price per copy can be achieved. These prices can then be based on the geographic location they're being sold to accommodate for differences in local currency.
However, on the Internet there is no such thing as an 'original' piece of artwork (original in the sense of not a copy) because all art published online is essentially a copy. And there is no quality differential per copy either, as all copies are identical in quality to the previous. Geographic location is also irrelevant as the Internet is flat and each 'netizen' is equal.
So, the price of digital art largely becomes arbitrary, based on whatever the artist feels the work is worth to them. That 'feeling of worth' is entirely relative to the local economic status of the individual and to their own valuation of money. But both of those are irrelevant online because the Internet is a global community and a global marketplace.
If we walk outside and ask our neighbor how much $1USD is worth to them, there's a good chance we can reach a mutual agreement on its worth. But if we go from a developed country like the United States to a poor country somewhere in Africa, we'll be hard-pressed to find someone with which to reach a similar agreement.
On the Internet, someone from a poor county in Africa is essentially just as close to us online as our next door neighbor. And as a result, using localized feelings of value cannot be applied online unless we're willing to exclude certain people based purely on where they were born.
For a global marketplace to exist, there needs to be a common currency. There needs to be something that everybody agrees is worth the same no matter where they're from. Without that, a global marketplace could not exist. Right now the common currency we share is the currency called 'free' and that's why the growth of the Internet can be correlated with the amount of 'free' stuff available.
But free isn't really a currency. It has no monetary value and it can't buy us food or shelter. I realized that if I chose to solve the problems of pricing digital art using the currency of free, I would need to rely on donations and/or give up the full-time creation of art to do other kinds of work.
When pure survival is at stake, a donation-based living doesn't feel right to me. Working and receiving something in return for that work feels more ethical than simply existing and asking others to support my existence. So, I needed to find a compromise that would allow me to create art full-time and still make a living.
Crossing the Bridge of Art, Income, and Equality
For over a year now I've wrestled with roadblocks related to the generation of income from creative work. I've spent months contemplating and reflecting on the crossroads of art, income, and equality and I've exchanged dozens of emails and held many conversations with friends.
But several questions remained unanswered and I refused to even attempt to earn a single penny through my creative work until I came up with at least some sort of solution that felt intuitively correct.
How could I put a price on my work without simultaneously caging it indefinitely?
How could I monetize my work without risking the distraction of income?
How could I ensure that all of my work remained free and accessible to everyone?
How could I maintain my enough and always give something back to those in need?
What I eventually arrived at was the conclusion that to cross that bridge -- to personally feel at peace with generating income from my creative work -- I needed a framework, a system for giving back, for holding myself accountable, and for ensuring that my values were not compromised.
Creating this framework meant clearly defining my 'enough' and stating upfront my commitment to giving back everything except what was needed for the lifestyle I chose to live. It meant creating a way that would ensure everyone, including those who could not afford my work, would still be given the opportunity to access, build upon, and benefit from that work.
What I needed to do was to define my ethics for generating income from creative work.
Until global equality is a closer reality, it is up to the individuals who are creating, publishing, and selling digital creative work in the global marketplace to accept the responsibility for creating their own set of ethics to ensure their art remains ethical.
Read the previous part of the series: Income Ethics: Planetary Social Responsibility
Read the final part of the series: Income Ethics: A Framework for Ethical Income