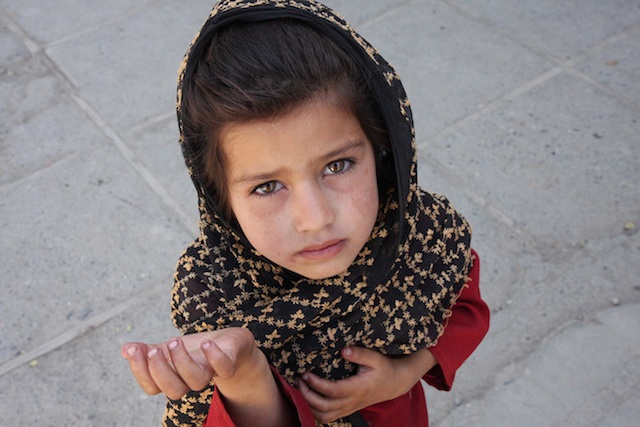 Look into her eyes. Look at the expression her mouth makes, the red marks left by tears on her cheeks, the grit underneath her nails. Now tell me that cup of coffee I was drinking is somehow more important.
Every time you buy something you don't need or spend time in the pursuit of a selfish goal, you're placing a vote that says you'd rather see people suffer than sacrifice your own wants and desires.
You can push the starving children out of your head and tell yourself that you'd do more if you could. You can remind yourself that you're a good person and that you have your own problems to deal with.
But none of that changes the fact that there are 2 billion people living on the same planet as you, sharing the same resources, breathing the same air, and yet surviving on a standard of living far below what you would consider humane.
None of that changes the fact that there are 17,000 children dying every single day from preventable causes.
There are no subtle exceptions. The coffee I'm drinking right now is a vote for poverty because I wasted $2 to satisfy my craving for caffeine instead of using that money to feed a hungry family for an entire week.
I selfishly voted for my own pleasure over the nourishment of an entire family.
Is that moral?
I am not that important. You are not that important. Nobody is worth more than a human life. Circumstances don't exclude some of us from shouldering this responsibility. It's our problem and humanity owes it to itself to take care of its own.
Five months ago I returned from India and found myself homesick in a strange and privileged land. The weeks moved on and I began working at my old job to save money for my next trip. I found myself settling back into the life I left six months earlier and slowly things seemed to return to normal.
Except one thing. I couldn't get that number out of my head: 17,000. I couldn't stop thinking about all those people I saw on my journey who were living with nothing.
I couldn't stop questioning the moral implications of the apparent addiction to waste that now surrounded me. Food thrown in the trash. Money thrown around as if there was nothing better to do with it. Hours, days, and months of time and life wasted on entertainment.
I've been trying really hard to understand, to find some way to justify the lifestyle my friends and family have always lived. I've been trying really hard to find some way to justify my lifestyle over the past five months, the comforts I still afford, the soft couch, the tall ceilings and the big windows.
I've been trying really hard to find some way to justify buying a cup of coffee when children are dying of starvation.
But it's all to no avail. Every day I'm left feeling more and more frustrated. More restless and more annoyed with my own inability to make choices that feel moral and sustainable on a planetary scale.
Instead I'm left gritting my teeth and holding back tears when I look at pictures of children begging, holding out their hand and asking for just a little bit of compassion. Asking for a little bit of caring and consideration. Asking to be remembered in our thoughts when we spend our time and money on things we don't really need.
I don't know how to live a dramatically different lifestyle. But I'm learning. I don't know how to live a life where all my actions are selfless. But I'm making an effort. I don't know how we can reach a future where every human being on the planet is afforded a basic standard of living. But I know it's possible.
I know it's possible because that's the only thing that makes sense.
We should simplify our lives, reduce our possessions, and eliminate unnecessary waste, yes, but why should we stop there? If we simplify our lives and get rid of clutter but then turn around and hoard an excess of free time and underutilized potential, what have we really simplified? What have we really given away?
The goal should be freedom to serve and use our time to improve equality on this planet. The goal should be freedom to give; freedom to share; freedom to help, to love, and to care. Ultimate happiness is not gained by hoarding it, but rather by giving it away to those who need it.
Am I alone in feeling this way? Do we not have a planetary social responsibility to sacrifice a large portion of our pleasure, our comfort, and our time in exchange for working towards equality for all? What makes us so special?