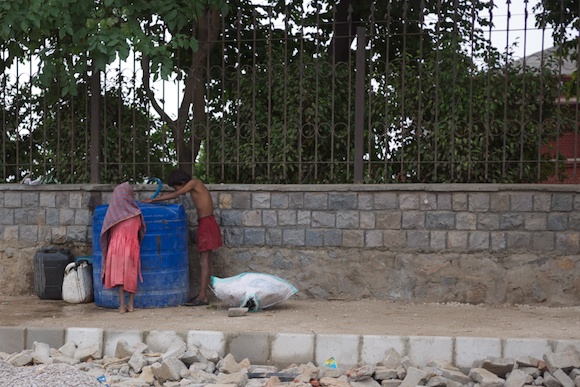 This past week marks three months since I left the place I called home for the first twenty-eight years of my life. I spent the past three months in India, a world away from my familiar home in the Northeast United States and I'm currently staying in Vietnam for two weeks before going to Nepal for two months.
Part of the reason for leaving home, changing my lifestyle, becoming a nomad was to rediscover myself; to strip my life of everything that might distract me from the process of inner discovery.
I was beginning to feel as though my life had gone down the wrong road; as if I had accidentally walked down the wrong path and I was watching the correct path disappear through a thick forest. I had to cut across. Whatever it took, I had to get to the other side. I felt an uncontrollable urge to follow my inner compass.
So I quit my job, sold all my stuff, and planned to live abroad for six months on a tiny budget of $3,000. What happened after that wasn't important to me. With the entire world knocking at my door and absolutely no experience traveling abroad, my new lifestyle started in India. I had no idea what to expect of the following six months -- I only knew that my life would never be the same again.
The first 90 days of my new life
I spent the first week in Bangalore, staying with a close friend of the family. He's a social entrepreneur who runs a solar energy business that helps provide remote villages in India with power. Their work enables kids to study at night by providing safe lighting and even powers water pumps so that water doesn't need to be carried long distances by foot.
Mingling with the employees at Selco and talking to the interns, I began to feel how their work had a sense of purpose; their work was changing lives. What do I do? How does my time help people? I felt selfish.
Just one week after arriving in India, I found myself living in a remote farmhouse in a tiny town where few people spoke English and even fewer people had probably seen or met a white person. I walked more than six miles a day, rode precariously packed jeeps with the locals, and learned many other interesting things that an isolated life in the States would never experience.
The days of solitude and many hours of walking by myself to and from the farmhouse gave me plenty of time to contemplate and analyze my life up until that point. I found myself in very reflective state of mind, easily learning lessons from the nature around me.
After a month in Ujire, I went the small beach town of Gokarna where I stayed for two weeks and discovered the link between frugality and gratefulness. All the poverty I had seen up until that point was beginning to have an affect on me -- I was beginning to feel frustrated.
It bugged me that I wasn't doing more to help. How could I spend time relaxing on the beach when mothers were begging for money to feed their undernourished children?
For a long time I have had a vision for a better world trapped in my head -- a vision for what I believe the world should look like. The frustration drove me to write down this vision and begin brainstorming for ways that I could make a difference; ways that I could leave behind a world better than I found it.
Leaving Gokarna, I took the train north along the western coast of India to Bombay where I stayed for a few days. More beggars, more poverty, more frustration. I felt guilty for sitting inside an air-conditioned cafe drinking iced coffee and working on my laptop. People were suffering. People were fighting to survive just a few feet from where I was comfortably lounging. What makes me so special?
On my way to Udaipur, I stopped in Surat where I had the toughest experience of the past three months. Toughest experience? In retrospect, just saying that seems absurdly ignorant and selfish. The poverty level around the bus and train station seemed even worse than in Bombay. Who am I to complain about being a little uncomfortable? Big deal. At least I'm wearing clothes.
Udaipur was incredible. Upon arriving, I immediately felt a strange energy to the place -- an energy that others confirmed they also felt. Perhaps those good vibes are what allowed me to be a little more spontaneous than usual. I roamed around the old city walking for hours through tiny unmarked ally's trying to avoid the patches of tourists; trying to get myself lost in search of a life-changing experience.
A random shopkeeper started a conversation with me and before I knew it I was inside having lunch and watching TV with him and his friends. When I was younger, I had trouble talking to strangers on the phone. Now here I was in a foreign country, in foreign city, eating lunch and laughing with strangers. Isn't this how friendly and welcoming every city should be? Isn't this how friendly and welcoming every person should be?
I arrived in Delhi a few days later to meet my adopted grandfather who I hadn't seen in several years. He had invited me to Delhi to attend the wedding of his granddaughter. My adopted aunt and uncle let me stay in their home until I left for Vietnam.
Their family follows the same traditions and values as my family and living with them for two weeks brought back so many memories. The love, kindness, warmth, and generosity they expressed not only towards me, but towards each other, really had a huge impact on me.
Saying good morning, good night, and taking a moment to be thankful for each meal were the norm. They seemed to treat each day as though it was their last, making each greeting as loving and warm as the previous. Taking a few extra moments out of the day to really express genuine gratitude and compassion to each person you meet has an enormous impact on the atmosphere around you.
Discovering a new meaning for existence
The past three months have not only been an incredible inner journey, but also an incredible outer journey through India. I've seen the progress happening in Bangalore, the slow life in Ujire, the increasing trash problems in Gokarna, the poverty in Bombay and Suart, the energy and friendliness of Udaipur, and the love, kindness, and warmth of family in Delhi.
The biggest thing I learned over the past three months, however, was that we really need to work towards a world of sustainable abundance; a world were people genuinely care about each other and the world around them.
Three months in a third world country has had a huge impact on my thoughts about life, work, and family. My inner foundation and core -- my inner sense of purpose and direction in life -- have been shaken. But the tremors haven't subsided and I sense the inner changes have only just begun.
If more people spent time traveling to third world countries to witness firsthand the changes that are needed in the world, I think we would have more people talking about ways to help the homeless mothers and their starving children instead of arguing over who might be the next American Idol or spending hours of their day talking about the World Cup.
Three months ago I left home to fulfill a lifelong dream of nomadic world travel with a goal of rediscovering myself and finding my purpose. Instead, I discovered the family of four that lives on a sidewalk underneath a piece of plastic; I discovered the children walking up and down the train cars begging for food; I discovered a world in dire need of people who give a damn.
Ten percent of the richest people in the world own eighty-five percent of all the wealth; half of the world's population owns less than one percent of all the wealth. Does that sound sustainable? Does that even sound ethical? I may not have discovered myself, but I definitely discovered a new meaning for my life -- a new purpose for existing.
I now feel more concerned with how I can use my life to help others instead of looking for what interesting things the world has to give me. I now see my lifestyle of travel as a visual guide to help me assess where my energy is needed. Life is short. Others will follow. What better way to live than to work towards ensuring a better future for those who will be here after we're gone?