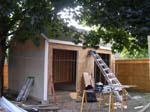 This project, like the basement project, started in 2004 when I began digging out the dirt from my basement. I realized I had no place to store everything that was in the basement and the old 8'x6' shed in my backyard was already full of stuff (and not very organized I might add), so I really had no where to store anything. Since I started purchasing investment properties and maintaining them myself, my collection of tools grew. I realized I needed a nice big area in which to organize and store everything. As usual, I looked into what I could build to fix that problem.
What really slowed down this project is when I dislocated my ankle (again) while I was building the floor of the shed. That put me out of commission for at least a month. And by the time I was ready to start building again, it was the middle of the winter and there was snow everywhere. Postponing the shed project also postponed the basement project from 2004 until 2005.
To create a solid base in which to build the 12'x16' shed floor, I dug six holes, 1' in diameter and about 3' deep. I then used the circle cardboard forms and poured high strength concrete inside each one. Now the most difficult part about this process was making sure each of the six footings were level with each other. The site was slightly sloped, so this process was even more important. If you look at some of the pictures (looking at the front of the shed), you can see the left footing sticks out from the ground about 12" and the right footing is level with the ground. That shows how much the land sloped. I used a laser level to make the footings as level as I could and then shimmed the joists on the footings where it was needed to make it level.
Note: There are more pages to this post. Scroll down to see the rest of them.