It's quite annoying when a new version of software is released and the programmers modify the menus, specifically the context menus. In Thunderbird 2.0, for example, they changed the context menu quite a bit from previous versions. I constantly use Thunderbird's context menu to "Mark Folder Read" and I used to instinctively know exactly how much to move my mouse after right clicking. Since they've changed the menu I have to stop and actually look at it.
Ignore the fact that the mouse is selecting "Empty Trash" in the following pictures. I couldn't find a picture of the old context menu showing Mark Folder Read selected.
Prior to Thunderbird 2.0: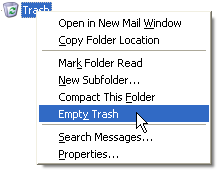 Thunderbird 2.0: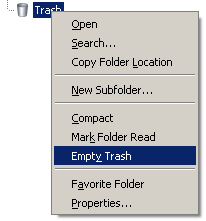 Now really, why did it need to change that much? They only added two additional items! Talk about reducing productivity with minor changes to a commonly used GUI!