Today at my parents house I swam 1/4 mile to a tiny island (the lake is called Little Island Pond, but it's actually a lake and it has two islands; a little one and a big one). I wasn't planning on swimming all the way there but I decided it was a nice day so why not. I've been wanting to start training for a triathlon and swimming is definitely an area where I need to work on my endurance and technique. I tried to stay close to shore and raise my hand and splash my feet whenever it looked like a boat coming towards me might not see me.
When I got to the tiny island (a big pile of rocks with a few shrubs and lily pads all around) I found a suitable sized flat rock and laid down in the sun. It was so peaceful. Boats and jet skis would roar by every now and then, sending waves rippling towards the rocks, eventually crashing and lightly splashing water on me. My iPhone was a 1/4 mile away. No buzzing. No ringing. Not even the possibility of it. It was literally just me, my swim trunks, and a bunch of rocks in the middle of a lake.
I had no way of tracking time and I don't know how long I ended up staying there. I wasn't thinking about time. I was just enjoying the moment. It's amazing how quickly time can pass when you're thoroughly enjoying the moment. Eventually I slipped back into the water and made my way back. I practiced the combat side stroke, a technique used by the Navy SEALs. It's amazing how well the technique moves you through the water. When I looked up at the shoreline, it seemed like I was moving at the speed of a slow jog!
One thing I like to do is track my distance in various activities. If I spend an hour swimming, I'd like to know how far I swam so I can try to improve on the time. A few days ago I started using an app on my iPhone called RunKeeper. It tracks distance and time using the built-in GPS and even plots your route on a Google Map. Awesome. So I thought, "Hey, if I could get my iPhone in a waterproof case and drag it along behind me while I swim, I should be able to track the distance in the same way!"
With the plan in my head seeming flawless, I purchased a waterproof case from Eastern Mountain Sports. When I arrived at my parents house I put the iPhone in the waterproof case, stole a shoelace from my brothers' boot, tied the case to my ankle, and started swimming. I took a peek at the case to make sure no water got inside. So far so good. I swam about 100 feet and checked again. Hmm, the app stopped recording the distance. It looked like someone touched the screen. Maybe the iPhone touchscreen was being finicky and responding to the temperature of the water? Weird. I turned around and swam back.
When I got to the shore and looked at the iPhone through the case, I noticed water inside. WTF? That would explain the weird touchscreen responses! I was pretty shocked. There was water in the waterproof case! Luckily, the iPhone still worked. (The Griffin hard case I've kept it in since the day I bought it probably helped.) I returned the case to EMS today.
Thanks to Google, I figured out an easy way to estimate my swimming distance using Google Maps: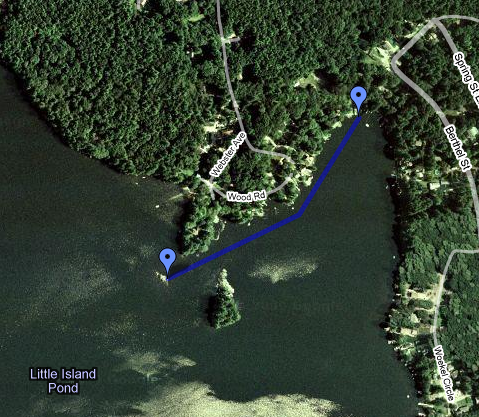 The total distance round trip was about 1/2 a mile. I plan to continue swimming on the weekends, even as it gets colder. If the Navy SEAL trainees (BUD/S) can swim and train in near freezing water, then so can I (check out some of these videos if you feel like being inspired).