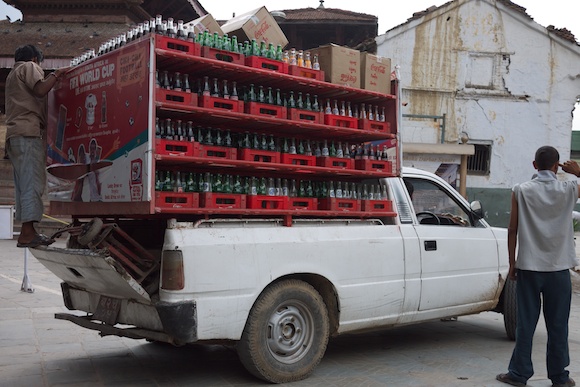 "Fear of failure is a ticket to mediocrity. If you're not failing from time to time, you're not pushing yourself. And if you're not pushing yourself, you're coasting." - Eric Zorn
That quote came across my screen after having spent almost twenty minutes aimlessly passing time on Facebook. I suddenly realized that for the past few weeks I haven't been pushing myself or risking failure. I've been coasting.
Case in point: I wasn't going to publish anything on this blog today. I had already decided that my next post would be on Friday. It was easier that way. I had no idea what to write and I was relying on inspiration to strike at some point between now and then to write a great post.
The truth is that ever since releasing my first ebook and visiting the schools in Nepal, I've felt the pressure from my inner perfectionist to continue outdoing myself.
Every blog post I wrote had to be better than the previous (my first post after releasing the ebook was the most difficult). I was afraid of publishing something that was off-topic, uninteresting, or not up to par with my previous posts.
I talked with my friend Ali Dark about how I was feeling and what did he do? He turned around and wrote a love letter to bloggers who might be feeling the same way. He turned my fear of failure into a success!
What was wrong with me? I knew that I had so much to offer and that my readers weren't going to disappear if I wrote even the most off-topic post, so why was I experiencing this fear of failure?
As I contemplated that question, I realized that fear of failure is not natural. We're only afraid of failure because we're afraid of what others might think. This fear is a direct result of our being taught by society that success is good and failure is bad.
However, despite this social conditioning few people other than ourselves even recognize failure, let alone take it into consideration.
Think about somebody famous. How many of their failures can you think of? Now think about a friend. How many of their failures can you think of? Now quickly think about your own life. Do your failures or your successes stand out first?
When we meet someone and ask them "What do you do?", we're not asking them "What are your failures?". We want to know about their successes and their accomplishments. We want to hear the reasons we should get to know them better.
Everybody can fail, but not everybody succeeds. It only makes sense then that we would be more interested in successes than failures. If nobody is really interested in failures, why should we be so afraid of them?
There are only two reasons we fail: Success wasn't possible or we didn't have everything we needed to succeed. Either way, every failure becomes a chance for success because it's an opportunity not to fail again. This is why failure is so important.
The only time failure is bad is when we don't use it to adjust our approach or change direction. If we're not adjusting our approach or changing direction, we're just coasting. We're not making progress and we're not improving.
Without failure, we have no power to adjust course. Without failure, we have no feedback mechanism to tell us when we need to change direction or how we can move towards success.
Remember that nobody wants to remember failures, but everybody wants to remember successes. Because of that fact, success tends to accumulate while failure decays and falls by the wayside.
As long as we're prepared to learn and take action, we should never be afraid of failing too often.
So ask yourself, what have you failed at recently? If the answer is nothing, then you're probably not pushing yourself hard enough. If you haven't made any mistakes or learned any big lessons lately, then you're probably playing it too safe.
Succumbing to fear of failure is dumping your fuel for success down the drain.
If you want to succeed, stop being afraid to fail.