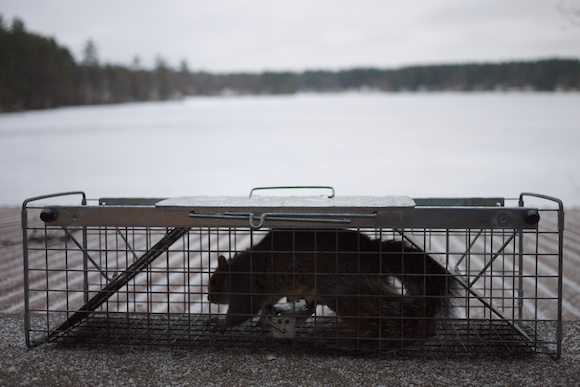 The cage rattled and the creature inside gnawed and pulled at the metal bars. It was a Grey Squirrel, one of several that had chewed a nest into the side of my parents house. My dad was catching and releasing them several miles away with the hope that they would find another place to nest. The trap was designed to cage, not harm, so thankfully the creature inside wasn't hurt.
Due to the design of the trap, tipping the cage over would cause the doors to unlock and open. The squirrel was definitely big enough to tip the cage over, but instead he paced back and forth and occasionally stopped to gnaw and pull on the metal enclosure.
That's when I found myself wondering what a human would do if placed in the same situation. Despite there being no indication that tipping the cage over would open the doors, a human would surely try that anyway.
I realized that's what makes us unique: When the outcome seems hopeless, we test the impossible.
As soon as it becomes blindingly obvious that our current path isn't getting us anywhere, we do something unheard of in nature. We control and put aside the one thing that all other creatures cannot: Fear.
When all seems hopeless, we don't give up. We shake our confining boxes. We break free of patterns. We revoke our commitment to the status quo. We evolve.
This ability to overcome fear and spontaneously evolve is part of what makes us human. It allows us to recognize when something is detrimental to our well-being and then take steps to circumvent it.
The metaphorical cages exist everywhere, but two places they can usually be found are in our patterns and commitments. Habits can make patterns not only hard to break but also hard to detect. Commitments can become so much apart of our identity that we forget we have the option of changing them.
If a pattern or commitment is preventing us from growing, if it's holding us back from experiencing our full potential, or if it's detrimental to our overall well-being or sense of inner peace, that pattern or commitment is a cage.
Can you think of any patterns or commitments in your life that represent metaphorical cages? What about thought patterns, ways of thinking, or attitudes? (Remember, attitude is everything).
I often catch myself running around, stuck in a pattern that is neither getting me anywhere nor contributing to my overall well-being.
I might be clicking through Twitter looking for something interesting to read, rereading emails to make sure I didn't miss anything, or planning a healthier daily routine instead of actually changing my daily habits.
I've recently found myself researching budget travel destinations instead of accepting that my heart has already made the decision to go back to India.
Sometimes I even find myself planning what to plan or thinking about what to stop thinking about (those patterns can be really dangerous black holes for time and focus).
There comes a time when we need to stop thinking and start doing. We need to stop planning and start taking action. We need to stop succumbing to the resistance that fear pushes onto us and accept that right now, this very moment, is as good as any.
There comes a time when we need to take a stand and start an inner revolution.
There's a time for thinking and planning and there's a time for action. When we sense the current cycle of activity isn't doing anything, that's a signal it's time for action.
That's why doing gets things done. It fosters change and gives us the strength to shape the future. The only change that running in circles fosters is that of creating a deeper rut.
Instead of assigning fear the role of gatekeeper with the authority to hold us back, we need to put that fear to work. We need to use it as motivation to escape the cages of doubt that are constraining our full potential.