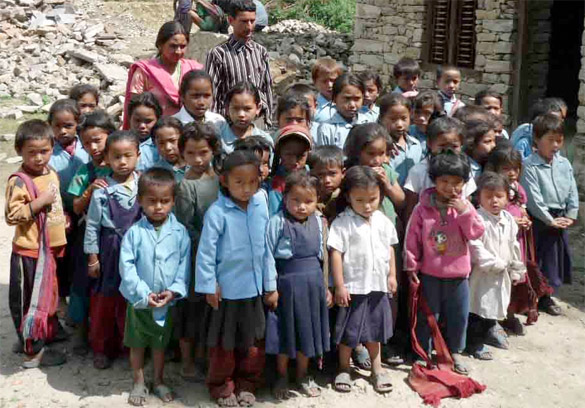 Early Sunday morning, two brothers will pick me up from my hotel in Kathmandu. We will drive several hours to a place called Sole Bazaar and from there I hear it's an eight-hour hike by foot, through areas infested with leeches, to the remote village where the project is located.
This isn't a photo expedition or a mini-vacation. If the weather holds out, I will be taking plenty of photos but that's not the purpose of this trip. I'm doing this for the kids like those in the photo above.
So where am I going? I'll be visiting the project site for a small non-profit organization called Nepal FREED, whose primary goal "is to make education more accessible for the children of Nepal". The group helps build, fund, and run schools using local materials and local labor.
As I've mentioned before, I wholeheartedly believe that the best way to change the future is through our children. Their education will determine their ability to continue working towards a better world.
Nepal FREED is a very small organization founded by a man who grew up in Nepal and who now lives and works in California. His entire family is involved in the project -- it's his two brothers who are picking me up. Neither of them speak English, so hopefully they bring an interpreter (maybe I should've taken that crash course in Nepali after all).
How I heard of project is a story of its own. A close friend of the founder read the Small Ways to Make a Big Difference ebook and he was intrigued by my vision for using technology to help make the world a better place. He has similar ideas and sent me an email asking if I would be interested in getting involved with his friends' project.
It would've been easy to say yes and write a long blog post about the organization asking everyone to go support them (that's not what this is). I could've helped them redo their website and set up a Twitter account. I could've used my own Twitter account to spread word about their cause. But I didn't do any of those (at least not yet).
In a world where people are doing and saying anything to clamber for attention, all we have is who we are; all we have is our integrity. If who we are is tarnished -- if our integrity is weakened -- we stand little chance of really being trusted.
One way to weaken our integrity is to jump on any and all available opportunities without hesitation and without putting much thought or research into who or what is involved. Taking the easy and cheap way out rarely builds integrity.
I've always been extremely skeptical and cautious when it comes to money. I know how powerful a drug greed can be and how quickly even the best intentions can turn evil (I wrote about this earlier).
So I replied to the email and explained that before I used my voice to spread the word about this project or support them, I wanted to see for myself the work they're doing. I wanted to see the schools with my eyes and shake hands with the people in charge.
You can really tell a lot about a person just by meeting them and if the past four months have taught me anything, its that firsthand experience in any situation has enormous power.
I also realized that I needed to put my feet where my mouth was -- I needed to start turning all those feel-good words and big dreams for a better world into tangible actions on the ground. If the ebook project was my first digital step in this new direction, this was to be my first step in the real world.
There are lots of ways to start making a difference. Is this the best thing for me to be doing with my time? I'm not sure, but it's definitely better than sitting in a cafe.
Any action is better than no action. My instinct told me to go with this, so that's where I'm going. This decision is way outside my comfort zone, so at the very least there will be plenty of inner development.
But I really need your help on this one. This is my first time touring an NGO project or doing anything like this and I have no idea what questions I should be asking.
If you were in my place and you were considering helping support Nepal FREED, what would you want to know? What questions would you ask the people in charge? Please share this post with others so they can provide feedback as well!