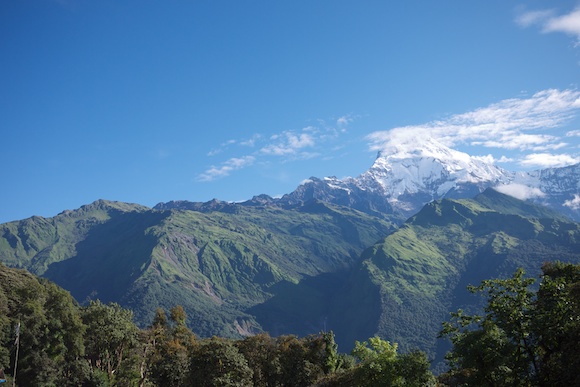 I had only been in the small village of Hile for two nights and yet I felt myself getting emotional about leaving. Was it because we had stayed an extra day to help the owner repaint the exterior of her guesthouse? Or was it because the owner was so nice that she made it feel a lot like home? Was this what being homesick was supposed to feel like?
We had trekked from one village to another for five days, climbing more than 2000m (6000ft) to a height of over 3200m (9600ft). My 22kg (50lb) backpack became heavier with each step and on day two I questioned my ability to make the rest of the trip. On the fourth day, we descended down seemingly endless stone stairs for almost eight hours.
I was traveling with my new friend and trekking guide, Tashi Sherpa, along with his 21 year old cousin who had climbed Mt. Everest four times and reached the summit twice. Tashi, who is an incredibly knowledgeable, friendly, and helpful guide, recently started his own trekking agency. If you're looking for a trekking guide in Nepal, I highly recommend you contact him.
This six day excursion ended up being more important than I had imagined. It reminded me how easy it is to lose focus of what matters and it allowed me to see a side of Nepal much different from what I observed while visiting the schools in Kahule and Bhalche a few weeks ago.
It was a side of Nepal where tourism had created a path of commonality and spread the poison of advertisement and mass media. Mobile phones, televisions, and electricity were common at even the highest elevations. Some of the kids wore ripped jeans and hung posters of their favorite movie actors on the walls.
The villages all looked similar: buildings were painted with the same blue, white, and brown colors. Almost every village had a map of the Annapurna trails, complete with estimated trekking times to the next stop, the current elevation, and a big "you are here" mark showing your current location.
I could feel how tourism had changed every single village along the trail; how it had commercialized every single one just a little bit.
But that's coming from the perspective of someone who grew up in a commercialized first world country. Tourism has also brought incredible opportunity for the people of Nepal. It provides an enormous number of jobs, loads of money, and a connection to the outside world that most of these remote villages wouldn't have otherwise.
It enables many kids to attend school and helps to provide supplies and medicine. The flow of English-speaking tourists who pass through give the village residents the opportunity to learn English -- most speak at least some English. The trekking guides themselves pick up multiple languages through tourists who visit from different parts the world (my guide, Tashi, could speak seven languages).
As I made these observations, I was also taking in the incredible beauty that surrounded me: green mountains covered in rice patties with majestic snow-capped peaks rising high in the background. Tiny villages dotted the hillsides, perched on seemingly impossible slopes. Rivers and waterfalls flowed everywhere -- I counted a dozen waterfalls on one mountainside.
We walked through mist filled forests of rhododendrons a hundred feet tall and fields filled with flowers of yellow, white, blue, and purple as far as the eye could see. It was more beautiful than I could've imagined -- more incredible than even a fantasy movie could portray.
It was so beautiful in fact, that I found myself forgetting about all those children I visited a few weeks ago; I found myself forgetting about all the poverty I had witnessed over the past few months that had so profoundly changed my sense of purpose and direction in life.
There was nothing out there except me, the beautiful scenery, and an abundance of comfortable tea houses where I was guaranteed a warm lunch and a nice place to sleep. I was losing touch with reality. By trekking in the Himalayan mountains with a goal of only enjoying myself and relaxing, I was forgetting about what mattered most.
But we all need to take time off and relax, right? Why then was this short vacation feeling like an illegal drug, giving me a temporary high but coming with a long-term low? Shouldn't taking time off to relax and recharge be more like a vitamin, providing us with vital nutrients to increase our strength and improve our potential?
Towards the end of my last post, I wrote about how my new sense of purpose seemed to be making me less interested in doing things just for the sake of doing them. This short trekking adventure has not only magnified that feeling, but now I feel almost repulsed by the thought of doing something purely for the sake of personal indulgence.
Maybe seven days was just too much or maybe it had something to do with being disconnected from the world for so long. When I'm able to get online, your comments and emails help to constantly remind me of what matters -- they are my daily "food for purpose" that seems to keep me fueled and on track.
Whatever the case, I feel relieved that I was able to look at this experience objectively. My inner journey over the past few months has been difficult to put into words, but having people like you to share it with has enhanced the voyage immensely.
Today marks exactly five months since I began my nomadic lifestyle, and with my plane back to the United States leaving India exactly one month from now, I'm sure the challenges have only just begun. But as this initial six-month journey nears its end, I find myself feeling worried that it may be difficult to stay focused and keep up the momentum.
Spending several days isolated from the world and surrounded by nature has always been the one thing that helped me recharge and clear my head; the one thing that always helped me see things more clearly after enough time in the modern world had dirtied my vision. After this six-day trek, I'm beginning to wonder if that's still the case.
Do you ever have trouble remembering what matters to you when you take time off? Do you find yourself losing focus or feeling more drained than you did before you took the break? What helps you recharge without losing focus?