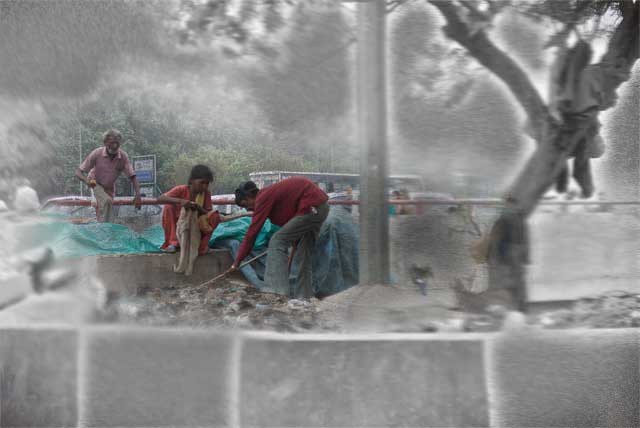 This essay is the first in a four-part series on income ethics. The series describes my discovery of a need for income ethics (this essay), explains why we need to define our enough, discusses the problem with art and equality in the digital age, and lays out the income ethics that I have defined for my own creative work. If you'd like to follow my work, please subscribe or check back here for updates.
A few days after returning to the United States from my first trip to India, I found myself in a movie theater, leaning back into a comfortable chair and quietly feeling the tears roll down my face as I looked around the dimly lit room and watched people stuff their faces with popcorn and slurp on giant cups of soda. I couldn't help but think about the millions of starving children on the other side of the planet who, while I was enjoying comfort, would be going to sleep later that night hungry and cold on a concrete sidewalk.
A few months later I was invited to attend the last launch of NASA's Space Shuttle Discovery. As I watched the spaceship blast off into outer space, I was again flooded with emotions as I realized how in such a short period of time I had observed the poorest of humans barely surviving in the slums of India to seeing firsthand evidence of the incredible technological advances our species had achieved.
Almost a year after my return, the bulk of these emotions seemed to have all but disappeared, numbed away by the time spent living again in a privileged and abundant society. But, as I walked down a beautiful pathway in California one sunny day, surrounded by perfectly landscaped gardens that wrapped me in pink, yellow, and blue flowers, their petals lazily swaying in the wind, I caught myself once again choking up.
What did I do to deserve so much beauty? Why did I have so much while millions of others lived in heaps of trash, scrounging around in the filth in search of food? And what right did I have to ask for more, to seek an income and ask others to give me more when I already had so much?
Whenever I thought about how I could earn an income through my creative work, I felt embarrassed to even be considering it. While billions were trying to feed themselves, I bathed in the luxury and the privilege of being able to create income streams with virtually no limit on growth and no need for accountability. It felt irresponsible, selfish, and wrong.
I have not always felt this repulsion to asking for more or this difficulty justifying an income. For most of my life I lived with more than I needed. I worked towards goals that were not really my own and I spent the majority of my time doing things to afford stuff that I thought I wanted but didn't need.
When it came to my career, nothing I did ever felt purposeful to the bigger picture. My potential always felt grossly underutilized and I never felt satisfied. But instead of doing something about it, I unconsciously contributed to the continuation of this dissatisfaction by telling myself that I needed to stick with whatever I was doing, no matter how rote or routine, because the next great opportunity might be just around the corner.
Instead of living life guided by my heart, I was living life guided by the fear of missing out on the next big thing, the thing that everybody had convinced me I would be foolish to throw away. Time was a cheap accessory and I was always willing to sacrifice today in return for the security of knowing that tomorrow would bring something I could expect, something that was already known and easily handled.
It didn't matter that I was quietly suffering inside. I willingly accepted suffering in my career and in my life because everybody else was suffering too, and sharing that suffering felt easier and more logical than standing out as the person who gave up everything in search of a better way.
But all of that changed last year when I made the decision to rid my life of all that fear and all those external expectations. I voluntarily gave up my attachment to the achievements, the accomplishments, and all the positions and career advancements. Saving myself from the decay of the status quo became more important than all the golden opportunities I might miss in the process.
From that moment forward, I committed myself to living a simple, more purpose-driven lifestyle and proceeded to wipe the slate clean of all my material possessions so that I could discover my enough and allow my heart the freedom it needed to guide my life.
I began living with only what fit on my back and in the process I discovered that letting go actually decreased the sense of scarcity and fear of not having enough.
Instead of being scared to miss opportunities, I began to feel a sense of abundance, a sense of absolute contentedness that came with the knowledge that I had recognized my enough and that I had the freedom to focus on the soul-empowering creative work that I now fully recognized enriched both my life and the lives of others.
But with this freedom came something very unexpected: An unbelievably strong sense of responsibility for using my time and my resources to help rebalance the global inequalities that were brought to my attention by travels abroad.
The decision to travel the world had opened my soul to a feeling of being inexplicably connected to everyone else on the planet. Earth had become my home and everyone on it genuinely felt like family. It became clear that whatever lifestyle I led and whatever work I did, my existence needed to contribute in some way to the well-being of all. I now felt an inherent planetary social responsibility.
Read the next part of the series: Income Ethics: Planetary Social Responsibility