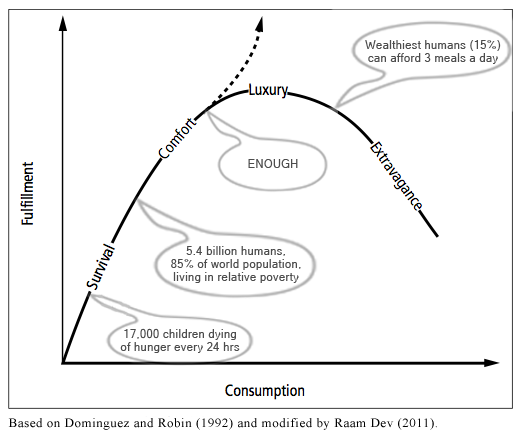 This essay is part two of a four-part series on income ethics. The series describes my discovery of a need for income ethics, explains why we need to define our enough (this essay), discusses the problem with art and equality in the digital age, and lays out the income ethics that I have defined for my own creative work. If you'd like to follow my work, please subscribe or check back here for updates.
When we came into this world, our hands were open. We live, our fists clenched, struggling to hold onto anything we can, but when we leave, our hands will once again remain open.
We come with nothing, we leave with nothing, and while we're here we own nothing. Every person who lives will go through this cycle, no matter who they are, where they're from, or how much they inherit.
Everything we have is borrowed, a temporary resource to use on this journey through life. We take nothing with us, and yet we are given so much while we're here. The whole world, all of life, is one big family, yet many of us ignore it and forget that it exists.
Distracted by the fleeting impermanence, we futilely clench our fists to that which surrounds us, focusing so much on protecting our so-called assets that we inadvertently damn others in our family to an inhumane and immoral standard of living. The current state of our human family isn't sad: it's disgraceful.
Some of us are fortunate enough to have the ability (the time) and the resources (the wealth and knowledge) to choose how we live and to make a difference in the welfare of our family. Unlike those who struggle every day to simply survive, there is a select few of us who get to choose.
As a member of that group who can choose and who, for most of his life, did nothing with that choice, I can say that many of us in the developed world are not using our free choice to change the state of our human family. Instead, we're living in luxury and aspiring towards extravagance, selfishly consuming more and more and not really thinking about where it leads.
We eat more than we need to, we spend more than we need to, and we hoard more than we need to. We play games with our resources in the 'financial markets' and acquire unnecessary junk in the 'supermarkets'.
Instead of deciding what truly matters to us and then releasing everything else to those who need it, we allow fear to guide us. We embrace scarcity because others are embracing it. We unconsciously spend our life doing things that ensure the poor remain poor, the rich remain rich, and everybody in between suffers for as long as possible.
Where does it stop? At what point do we recognize our enough and start giving back to those in need? When does our time and money cease to represent a vote for poverty and instead become a vote for equality?
We create budgets for reducing debt and achieving long-term goals, but have we created a budget for humanity? Have we created a budget for serving our human family with the limited time we have available? Have we taken the time to assess what we have and asked ourselves if we might be holding too much?
If you can afford three meals a day, you are in the top 15% of the wealthiest humans on Earth.
What are we doing with all that wealth? Are we hoarding it like paranoid pack rats, padding our bellies and bank accounts and chasing the volatile and impermanent equity of our physical assets?
Or are we living within our means, recognizing what is really necessary to achieve our goals, and then searching for ways to redistribute excess so that we may contribute to the betterment of all life?
Throughout history, the wealthy members of successful societies acted as the caretakers and custodians of their community. They used their wealth to ensure a moral, just, and dignified standard of living. The societies that failed? They had one thing in common: the wealthy hoarded.
For the first time in written history, a global society is emerging. We are in a transition that ends with each individual representing one member of a global community. The biggest mistake we can make as individuals is to remain blind to the individual responsibility that comes with the privilege of having access to this global community.
What Does It Mean To Accept This Responsibility?
Our planetary social responsibility is a responsibility to protect our home (Earth) and our family (all of life). It's a responsibility to ensure that our actions, as both individuals and groups, support the continued welfare of this home and family.
Accepting this responsibility doesn't mean that we should neglect ourselves or throw away our ambitions or personal goals -- it doesn't mean we should become martyrs for the greater good. What it does mean is that we should recognize the treasure that is this human existence and accept the responsibility for the potential that it awards us.
It means that we should ask ourselves how our work (the activities undertaken with the intention of achieving specific results) and the output or return of that work (the results, whether direct or residual), affects our home and our family.
It means understanding how our work relates to our goals and to what extent that work utilizes our unique potential. (If we are, as groups or individuals, not aiming to use our unique potential to the fullest extent, then we're doing a disservice to ourselves and to the world.)
Accepting this responsibility also means understanding how our lifestyles -- the things that we consume, the groups that we relate with, and the leisurely activities that we partake in -- affect the world and its people, and it means taking an active role in changing our habits to improve our lifestyle.
It means asking ourselves how our personal priorities and goals, both of which direct how we spend most of our life, affect the future home for our children (all children are our children) and whether the long-term affects of those priorities and goals will contribute to a net-positive or a net-negative future for our human family.
Wouldn't you want to know if your work or your lifestyle was somehow contributing to the deaths of 17,000 children every night? I know I certainly would. The answer to that question isn't easy to find, but it should still be asked; it should still be something that's on our mind when we make decisions about our work and our lifestyle.
Fulfilling our planetary social responsibility will inevitably look different for each individual and fulfilling it won't change the world overnight. But there is one thing we can all remember: Equality cannot be maintained for a few at the expense of the many. As Martin Luther King observed, "where there is injustice for one, there is injustice for all."
Read the previous part of the series: Income Ethics: Embracing the Human Family
Read the next part of the series: Income Ethics: Digital Art and Equality