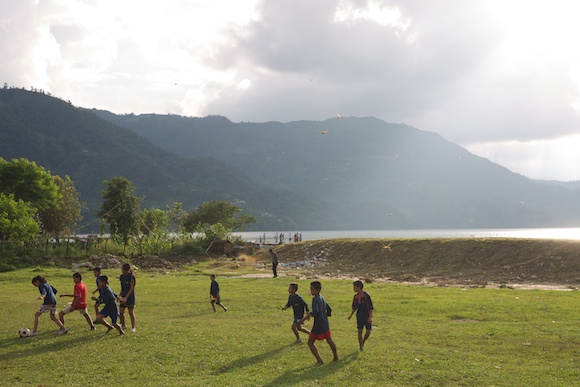 It's one thing to see less fortunate people on the street and have the urge to help them, but it's something else entirely to have almost one hundred children staring at you hoping that you'll do something to improve their future.
It was my second day visiting the schools in Nepal and I had been greeted like a king and given my first-ever public speech a few hours earlier. I was feeling extremely moved and inspired by how I might be able to help so many people.
As I hiked from the first village of Kahule to the even more remote village of Bhalche, the strangest thought came to me: How could I fulfill this urge to dedicate my life to helping improve the world and still justify skydiving?
For that matter, how could I justify doing anything recreational or fun that wasn't directly related to helping others?
How could I spend days hiking or camping in remote forests, snowboarding down beautiful mountains of snow and ice, or allow myself to become immersed in a stimulating computer game?
What about my aspirations to become a triathlete, master scuba diver, and airplane pilot?
What about my endless love for learning and studying various fields of technology like computer programming, network security, robotics, amateur radio, and electronics (just to name a few)?
Did I have to throw all of that out the window if I wanted to dedicate my life to helping others?
Over the past few weeks I've spent a lot of time thinking about that question and contemplating how fun and play fit into the greater scheme of things. I recalled how my dad always posed the question, "Why do children play hide-n-seek?". His response was always the same: "They just do. It's fun."
When we become adults, we don't stop playing. We just become a little more serious and change the name from "fun and play" to "hobbies and interests".
But could a hobby that appears to only benefit ourselves be used to help others?
I realized that one of the best ways to increase the value of our hobbies is to share them -- the simple act of sharing turns even the most mundane hobby into a source of value.
For example, the Frugal Travel Reports that I publish at the end of every month have become somewhat of a hobby for me. Every day I write down and categorize my expenses. The activity helps me work towards my goal of living frugally and helps keep me accountable. It's fun, but in the greater scheme of things is it really that important?
Will these reports change the world? Doubtful. But are they providing any value to my life? Definitely. By sharing the reports with everyone on my blog, am I increasing their overall value? Absolutely.
Sharing instantly adds value to any activity.
Software developer? Make your projects open-source and collaborate with others.
Triathlete? Become a fitness coach or write about the training.
Scuba diver? Use the perspective you gain from being immersed in a new world to inspire others.
Gamer? Uh... well maybe some things really are just for fun.
Play is an exercise for life
Just as it's important to exercise our bodies, it's also important to exercise our life. Fun and play is exercise for life. Your hobbies and interests, no matter how unrelated to your work or seemingly useless to the rest of the world, are important; they're important for your well-being.
Everything needs exercise: Our bodies need it to stay healthy, the economy needs it to grow, our skills need it to stay sharp, even babies need it to develop their voice.
Life is no different. If you don't exercise life regularly, you will become rusty and burned out. If you're burned out and unhappy, you won't be fully capable of helping others no matter how much you want to.
As long as we remember what's important and we don't lose focus, our hobbies will enrich our lives and make us more capable human beings. If we're not just thinking about ourselves and we balance pleasure with responsibility, we will be learning and increasing our overall potential to help others.
But moderation and balance are key. Too much exercise is just as harmful as too little.
If watching TV helps you relax, sitting on the couch all day isn't going to be beneficial to anyone, including yourself. If you enjoy playing a computer game, wasting hours every day in a virtual world isn't going to help you make a difference in the lives of others.
Play, but play responsible. Have fun, but balance it with responsibility.
Now go have fun
Do something fun this weekend and think about how you're exercising life. Think about how the activity is helping make you a better person and how it's preparing you for the challenges in the week ahead.
While you're at it, ask yourself how you could make that activity even more valuable by sharing it with someone else.
***
I will be flying back to India on Sunday, so this will most likely be my last blog post from Nepal (at least for this year). The past two months have been full of incredible, spontaneous, and unexpected events that have led to more inner growth than I could have possibly imagined.
I gave my first public speech to a crowd of school children, trekked up into the Himalayan mountains more than 2000m (6,000ft), and wrote and published my first ebook. You might call some of it hard work, but it was fun!