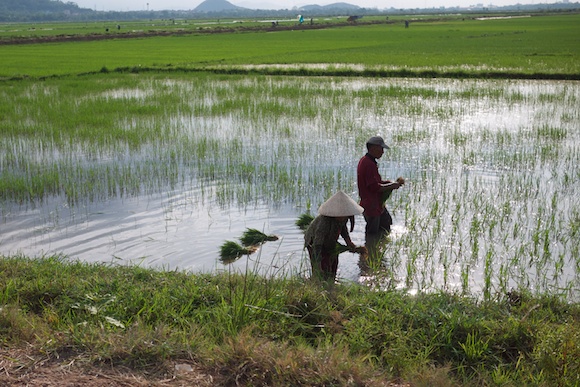 I mentioned in my previous post that I wasn't going to post on a schedule anymore, but I didn't expect to go this long without posting anything.
I flew to central Vietnam a few days ago to a city called Hue (pronounced hu-way). The hotel, which is still under construction, is very comfortable for $15/night but it has no WiFi access and I wake up every morning to the sound of banging. But I'm not paying for the room, so I can't complain.
My friend David and his wife Mai have been awesome; they're letting me tag along with them to visit Mai's family and they have been introducing me to everybody along the way (Asians have huge families).
The first few days in Ho Chi Minh City were packed full of tours and trips to various places. Waking up at six in the morning with only a few hours of sleep wasn't fun, but I wasn't going to miss an opportunity to get a free tour of Vietnam.
David's brother, sister-in-law, and their three kids were also visiting from the States, so Mai had planned several activities for them during their stay. We took an air-conditioned bus or van almost every day, a luxury compared to the local buses and rickshaws I was taking in India for the past three months.
We walked around Ho Chi Minh City, visited indoor and outdoor markets, toured the Reunification Palace and museum, and spent some time relaxing in the pool at David's hotel.
We took a three hour trip to a town called Vung Tao where we hung out on the beach for a few hours before grabbing lunch and then climbing over seven-hundred stairs to stand on the shoulders of a giant statue of Jesus. The view from the top was incredible.
My first ride on a tour bus was for a boat tour on the Mekong river. The tour guide told us stories of his childhood, the history of Ho Chi Minh City, and a couple of bad jokes. We had lunch on an island, visited a coconut candy factory, and drank some really strong coconut wine.
On Friday, we visited some of Mai's family north of Ho Chi Minh City in the Binh Doung province. The peaceful and quiet countryside was a welcome change from the noise and crowds of motorbikes in the city. Hanging out with Mai's family for the day brought back many memories of my childhood Asian friends.
On Saturday, David, Mai, and myself took a plane to Hue, where we visited Mai's parents and several other family members (I gave up trying to keep track after the fourth house).
The past few days in Hue have been a lot more laid back than the first week in Ho Chi Minh City. We've been spending lots of time with family, eating home cooked meals, watching kids run around laughing, and taking plenty of photos.
Mai's cousin's husband, Huang, is a freelance tour guide for this area and he gave David and myself a free tour of the Imperial Palace, plus an entire history lesson. Nobody except Houng, David, and Mai speak English, so hand signals and smiles are a popular method of communication.
Yesterday, we took motorbikes through a field of green rice patties that stretched out as far as the eye could see. My camera battery died on the way back and I took the opportunity to soak in everything around me.
The warm breeze on my face, the sun setting to my right, beautiful green on either side. I looked up at the sky, closed my eyes, and took a deep breath. I could feel the memory of that moment being etched into my brain as I realized that I'm in Vietnam.
This Thursday we fly back to Ho Chi Minh City to meet David's brother and his family again (they've been visiting China while we're in Huy). We'll probably do a little more sightseeing in Ho Chi Minh before our two week trip is over.
David and his family are returning to the States this weekend and I leave for a two month stay in Nepal on Monday morning. I couldn't have asked for a better two weeks in Vietnam and it's all thanks to David and Mai.