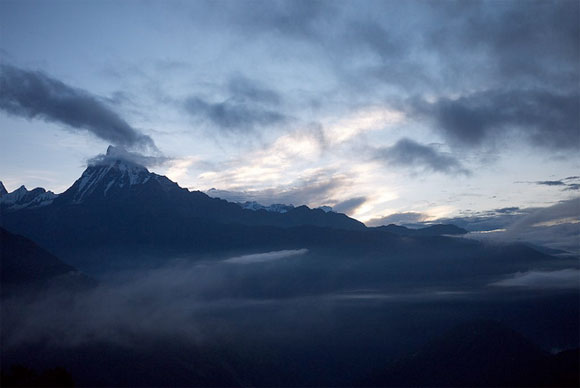 With each step, the ambient light from the house dissipated. The ground was cold and my eyes strained to see where I was going. I dared not turn around or look up, too afraid that doing so would cause a giant creature to materialize from the darkness and swallow me in one gulp.
I was nine years old and although I had long since overcome my fear of the darkness inside the house, the dark forest surrounding the yard still held me hostage.
It was holding me prisoner, preventing me from exploring those places that my siblings wouldn't dream of going. I wanted to take that next step. I wanted to conquer darkness altogether.
One evening, without telling anyone in the house, I opened the back door and stared into the forest. The darkness was incredible. It shrouded everything in mystery, turning the daytime-yard that I was so familiar with into an unknown world of terrifying possibilities.
What was hiding out there? What creature might emerge from the darkness and attack me?
Pushing those thoughts aside, I clenched my fists, held my breath, and walked into the darkness. I repeated in my head over and over, "Nothing is going to attack me, nothing is going to attack me, nothing is going to attack me."
After walking about five hundred feet, I turned around and looked back at the house. There it was in the distance: The safety of a home, the warmth of my family, and the comfort of light.
I stared for a few moments and then realized that I had done it. I had faced my fear of the darkness and... wait, I still have to walk all the way back!
Each step towards the house seemed like an eternity. Each step seemed to increase the pressure behind me, the feeling that there were creatures stalking me in the darkness and waiting for the right moment to pounce.
I resisted the urge to run, knowing that doing so would only prove that I was still afraid.
Reaching the house I looked back from the doorway. I smiled to myself and felt a sense of accomplishment and pride. Only a few minutes earlier I had left that very same doorway shackled by self-inflicted fear and doubt. Now I had returned. Victorious. Free.
I had conquered the darkness and I was no longer afraid.
# #
That story is one of the pivotal moments in my childhood that I recall as being a steppingstone towards adulthood. To this day, I often intentionally do things in the dark to remind myself of that story and of the lessons I learned on that day.
As adults we've learned to accept that the darkness holds unknowns. We don't allow ourselves to remain paralyzed by those uncertainties and we don't stand around and complain that we cannot see into the shadows.
Instead, with the full knowledge that we may stumble or fall, we move forward anyway. We accept the darkness for what it is and we begin walking towards where we believe we will find the light switch.
In the same way, it's OK to be unsure of what obstacles may lay in our path. It's better to walk somewhere and stumble than it is to stand in one place terrified about what might happen if we move.
The expression "fake it until you make it" really means to accept that you don't know everything right now. It means that by remaining confident and moving forward you will find a way to succeed anyway.
I'm still afraid of the dark, only now the darkness presents itself as imperfection, creative resistance, and a fear of success; the imaginary monsters that lurk in the shadows are rejection, regret, ridicule, and remorse.
My writing in particular has suffered. Too many times I've let the quest for perfection get in my way and I've given resistance way too much freedom. But that's it. I'm tired of being shackled inside this house of resistance and insecurity. It's time for me to get more vocal and spend more time practicing the craft of writing.
Life gives us a choice. We can sit around and wait for the light to shine on us or we can stand up and start searching for it. We can live a life paralyzed by the things we fear, or we can clench our fists, hold our breath, and step into the darkness.