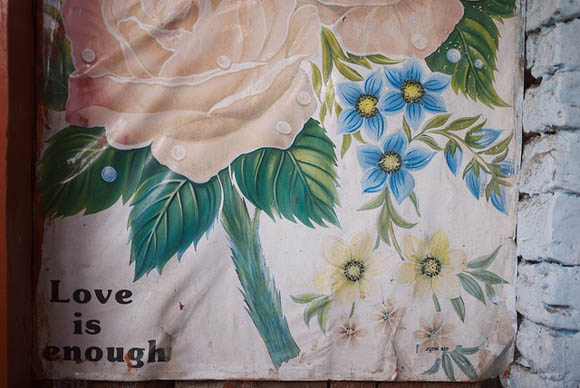 "Who's that Buzz guy?"
"Buzz Aldrin? He was one of the first people to walk on the moon."
She was surrounded by space geeks, asking questions about space history that must have seemed trivial and obvious to everyone around her. But she wasn't judged. She wasn't laughed at, criticized, or looked down upon. Instead, her curiosity was enthusiastically embraced and nurtured.
Five people stood around the kitchen and took turns answering question after question. Five people who only a few days earlier were total strangers. This, I realized, is why love and passion are so important to humanity.
Their voices began to blur and their outlines became fuzzy as I began daydreaming of a world where every person was just as compassionate and caring. A world where strangers would regularly come together to share knowledge and exchange ideas. A world where what mattered wasn't power or prestige, but pure, simple, love.
But let me back up a little and explain how this group of strangers, including myself, came to be living together under the same roof.
---
Several months ago, more than three thousand people from around the world submitted their name for an online drawing to attend the NASA STS-133 Tweetup, a real-world meeting of Twitter users who would be invited by NASA as VIP guests to the Kennedy Space Center in Florida.
A hundred and fifty people, including yours truly, were randomly selected to attend this event.
NASA organized a free two-day schedule of talks with astronauts and engineers, demonstrations of Robonaut 2, and tours through various buildings at the Kennedy Space Center, including an up close look at the space shuttle on the launch pad.
We were even given a surprise tour of the Vehicle Assembly Building and the Shuttle Landing Facility, neither of which are available on the public tour.
The Space Shuttle Discovery was scheduled to launch on November 1st and this invitation allowed us to watch the launch from the countdown clock, a mere 3.5 miles from the launch pad (that's the closest you can safely get; everyone else has to watch it from 9.5 miles).
When the list of selected attendees for the NASA Tweetup was released, everybody began connecting with each other on Twitter. Someone started a Google Group and then someone else suggested a group house rental.
Suddenly there were five houses being rented, all with their own nicknames and confirmed residents. Carpooling groups were organized and arrival times were coordinated. Someone offered to bring extra towels and blankets for those who might need them.
The first house to get put together was rightly nicknamed the Big House: seventeen of us lived together for a week in a four bedroom house on the ocean. We cooked together, went food shopping together, played music together, shared stories together, and laughed together.
"Here's a blank check, just fill in the amount I owe you."
After only having known each other for a few days, that was the level of trust that had developed between some of us.
We used Twitter to share updates on the status of the shuttle launch, coordinate meetings for lunch and dinner, share jokes, publish photos, and even conduct elaborate pranks. Members of the Beta House -- the second house to organize -- joined the Big House almost every day.
The level of diversity, high degree of cooperation, and seemingly instantaneous compatibility and trust that developed between everyone in both groups was astounding.
It was hard to believe we hadn't know each other our entire lives.
Then launch delay after launch delay forced us to extend our stay from three days to over a week. By the end of the week an additional delay postponed the launch by almost a month.
The shuttle launch was supposed to be the highlight of our trip. It was supposed to be the grand finale that made the expense and long journey worth it. But when it became clear that we weren't going to see a launch anytime soon, we realized that what we gained by coming together was even more special than getting to see a launch.
As everybody began saying their goodbyes, it became obvious how close we had all grown. A few days earlier we were all strangers but now, as people departed, tears were being shed. Promises were being made to see each other again and to stay in touch.
---
It didn't matter how far apart we lived or how different our lives may have been. It didn't matter what beliefs we followed or what country we came from. By the end of that week, we weren't strangers, acquaintances, or even friends. We were family.
But how could that happen? How could a group of total strangers feel like family after just one week? What was it that brought us together and allowed us to relate on a level that not only dismissed our differences, but allowed us to embrace each other as more than just friends?
I realized it was the understanding that we were all part of something bigger, something greater than ourselves, something that was more important than any one individual. That understanding enabled us to see past our individual differences and accept each other for exactly who we were.
Our mutual enthusiasm and passion for space exploration made us see that no matter where on the planet we came from, we were in this together. We needed each other. If someone didn't know who Buzz Aldrin was, the answer wasn't to judge, but to teach.
What brought us together was a shared passion for exploring the unknown. It was a shared quest for discovery, for testing limits, for working together, and for advancing the human race.
What brought us together was love.
And that was enough.
"When the power of love overcomes the love of power, the world will know peace." - Jimi Hendrix
That's what happened in this group. The power of love overcame the love of power.
Our individual strengths and weaknesses didn't matter. How rich or poor we were didn't matter. How successful or unsuccessful we were didn't matter.
What mattered was that we all loved and cared about the same thing.
What mattered was that we were all in this together.
---
This sense of togetherness can be extended. It needs to be extended.
While we need to take care of ourselves, we also need to have a genuine interest in others. We need to empathize with each others' struggles and successes. We need to recognize that everybody living on this planet is one big family and then treat each other as such.
The next time you look at a stranger, try to see the humanity in that person. Look past their facial features. Dismiss the subtle judgements you make and see them not as a stranger, but as a son, daughter, brother, sister, mother, father, grandmother, or grandfather. See their capacity for love and how little really separates you from them.
We're all stardust. We came from stardust and our bodies will return to stardust.
By rediscovering our innate connection to the universe and to all that exists, the differences that separate us will disappear. What will remain is a community where the advancement of humanity and the well-being of all life is the common goal that unites us all.