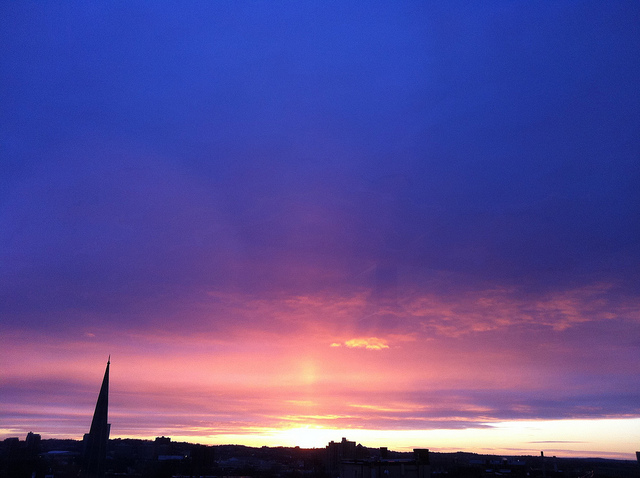 What's the ultimate purpose of life? When you strip away everything, what's left?
I looked up from my laptop and stared out the window to watch the final five minutes of the sun set over the city of Boston. As often happens, questions began popping into my head. What did it all mean? The sun, the Earth, the beautiful colors in the sky. What was the point of all this?
There has always been a piece of me that felt my purpose for being here on Earth was not going to involve starting a family, but suddenly I found myself wondering if that was really the case. I started imagining what it would be like to get married and have kids.
Was my stubborn persistence and vow to always follow my heart causing me to miss out on something really important? Was starting a family part of the purpose for existence? Will my life have been worth living if I don't make procreation a priority?
After the last sliver of orange disappeared over the horizon, I returned to my laptop and posed the question on Twitter and Facebook: What's the ultimate purpose of life?
I received several responses but two of them really resonated with me:
We each discover and give purpose to our own lives; ultimately, I think it's about striving to realize our highest potential... to become all that we are capable of becoming. The same is true of all life... from humans to flowers. All have tremendous potential. - Adrienne Jurado
To be human means to strive to reach our full potential. It means never accepting the status quo or being satisfied with "good enough". If something doesn't work, we're not supposed to give up.
To be human means to make impossibility synonymous with challenge.
Our human existence gives us incredible potential. We're capable of creating amazing works of art and literature, constructing cities that house millions of people, and building spaceships to transport ourselves to other planets.
We study our bodies and learn how to rebuild limbs, study our brains and devise ways of learning faster, and push the boundaries of our mental and physical limitations. We're even capable of recreating reality and extending our world into a dimension that ensures our continued development.
When our desire for connection outgrew our capacity to communicate, we built machines that enabled us to instantaneously share our thoughts with other humans thousands of miles away.
But there must be something more to our existence than solving problems and reshaping our world, right?
There must be something that makes us willing to sweat and endure pain, to deal with hardship and difficulty, to persevere and live on even in the face of inevitable death.
What is that?
To love and be loved. When this life is over what will have mattered about your life is what other lives you touched, who did you love, who loved you. We show love when we walk in empathy toward others. It's easy to have a love walk in your own culture, [but] can you show love in foreign environments or to people not of your 'tribe'? That is our goal [and] it's what defines and refines us. - Gena and Jeff Smith
When I think about family, I think about everyone on this planet. When I see a photo of a child begging, I feel a sense of responsibility to ensure that child gets fed. When I see the environment being destroyed by excessive consumption, I feel a responsibility to set an example for a more sustainable lifestyle.
I know my purpose for being here is to fulfill that sense of responsibility and I feel a deep connection to this planet and all the life that exists on it.
Adrienne and Gena helped define what life and love mean to me: The act of giving purpose to our own lives and then walking in empathy towards others with open arms and open hearts, ready to give and serve selflessly without expectation.
If I spend the rest of my life striving to realize my full potential, in pursuit of a vision that I cannot live to see fully realized, will my life have been worth living? I believe the answer is yes, because it would've been a life rooted in love and love is enough.
---
I want to dedicate this post to all the incredible souls with whom I have connected over the past twelve months. There are hundreds of you who have emailed and left comments and thousands more who take the time to read. I feel loved by every single one of you.
When I started writing on this blog almost a decade ago, it was for the sole purpose of having a creative outlet. I had no idea what an amazing part of my life this space would become and how many relationships and connections would be born here.
Thank you for being part of my life. If we haven't connected yet, leave a comment below and introduce yourself or send me a message and just say hello. I would love to hear from you.
This post is part of the Love Sparks Blogging Festival, an event organized by my friend Jasmine Lamb from All Is Listening.