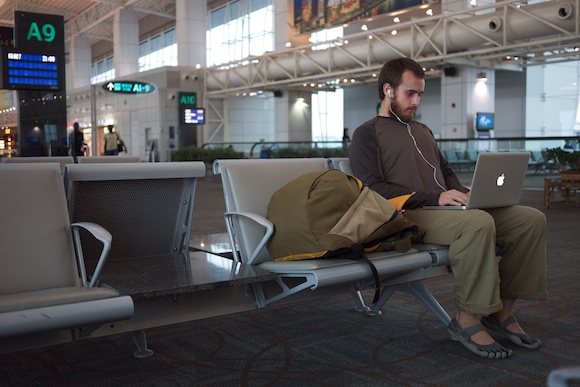 "How many bags?"
"Just one" I replied, motioning to the small 30L backpack on my shoulder.
"And how much luggage?"
"None... just this one bag."
It's as if people can not comprehend someone traveling with only one bag. Everyone, from the airline ticket attendant, to the taxi driver, to the clerk at the hotel, seemed to insist that I must have more luggage.
I sat down in an empty section of Malaysia's Kuala Lumpur International Airport and put my bag down on the seat next to me. As I watched people wrestle with multiple suitcases, I looked over at my lonely bag and remembered how different my life used to be.
Just over a year ago, I announced on this blog that I was closing a chapter in my life, a chapter of excess possessions and unnecessary waste. I wrote about my desire to live with everything on my back and roam the world as a nomad.
I followed my intuition and today, after spending the past six months living in India, Vietnam, and Nepal, I'm writing about the lifestyle that was once only a dream.
25 Things
At some point during my travels, I decided to count how many items I was living with and the number came surprisingly close to twenty-five.
Apple MacBook Pro + Charger
Apple iPhone + Charger
Panasonic Lumix DMC-GF1 Digital Camera + Charger + Extra battery
Apple Magic Mouse
Western Digital 500GB External Hard Drive + USB Cable
Nokia Mobile Phone + Charger
Earbuds + 16GB Thumbdrive + Mobile Data Card
Travel Adapter
North Face Trousers
Prana Trousers
North Face T-Shirt
Jack Wolfskin Shirt
2 x Eastern Mountain Sports Boxers
Wool Socks (1 pair)
Vibram FiveFingers Sprint
North Face Hiking Shoes
Moleskin Notebook + Pencil
Medical Kit
Hygiene Kit (Toothbrush, Toothpaste, Tongue Cleaner, Floss)
Survival Kit (Firestarter, Compass/Whistle/Thermometer, Headlamp, Twine)
Water Bottle
Travel Towel
3 x Dry Bags + Backpack Dry Cover
Misc Travel Documents (Passport, License, Cash, Credit Cards, printed airplane ticket confirmations, etc.)
Crumpler Customary Barge 30L Backpack
I've decided to start tracking my possessions on the 25 Things page, where you will always find an updated list of items and a description of the rules that I'm following. You can also read more about what motivated me to start this personal challenge.
Traveling with 25 Things (Including Two Pair of Underwear)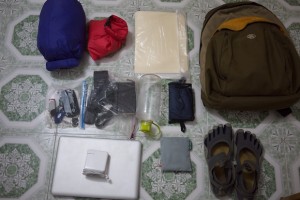 The day before I left home, all my stuff was spread out on the living room floor. I was trying to decide exactly what to pack in one bag for the next six months.
There were several things that I considered essential based on their ability to replace multiple objects: a laptop, a good camera, and a smartphone.
The digital camera, for example, became both my video camera and my scanner. The smartphone became a whole slew of other small accessories: Calculator, address book, MP3 player, WiFi finder, and more.
The laptop became my entire library, full of ebooks, podcasts, and maps. It also acted as my filing cabinet, containing digital copies of anything that I didn't require a hard copy of (I use the digital camera to capture high-res images of papers and receipts).
The Internet is probably one of the most useful tools: I use it to research the places I'm going visit, find and reserve cheap places to stay, purchase airplane tickets, and even take care of all my banking and bill payments. It also acts as my primary means of communication with Skype, Email, Facebook, and Twitter. I even check my physical postal mail online using a service called EarthClassMail.
A minimalist digital nomad eliminates physical objects and reduces the requirement to be in a physical location by finding creative ways to use technology.
Once my bag was packed with the absolute essentials, there was only so much room left to fit non-essentials. Clothing was my wild-card item -- whatever space was left in my bag would determine how much clothing came with me. Thankfully, at least two pair of underwear made the cut.
Traveling with two pair of underwear meant that I would inevitably need to wear the same pair at least twice without washing them. However, by wearing my swim trunks at least twice a week (without underwear), I discovered that I could go almost an entire week without washing my clothes.
It should be noted that since most of my clothing is designed for extended use, it's treated with antimicrobial agents that discourage the growth of bacteria. Even when they've been soaked in sweat for two days, the clothes don't stink.
A Lifetime of Experiences in Six Months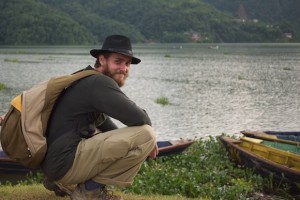 In the past six months, I've called more than 26 places home, including a train, a bus, an airport, and a farmhouse.
I've dried my clothes in the sun alongside coconuts, shared a bed with dozens of 2" cockroaches, and spent the night sleeping on a wet stone floor in a mountaintop hut.
I've crossed paths with snakes that could kill me; I've been offered weed more times than I can count; I've forgotten the names of places I used to frequent back home; I've lost count how many times I've been sick, and I've even had my arm grabbed by hookers riding a motorcycle.
But through all that, I've also witnessed life-changing events; I've given my first public speech to a crowd of school children in Nepal; I've made new friends from a dozen different countries; I've become more spontaneous and fearless; and I've gone through more personal development than I thought possible.
My self-confidence has gone through the roof and I've learned so much about myself and the world around me. I've become more humble and compassionate and I've discovered a calling and a sense of purpose that has given me crystal-clear clarity.
On days of the week where I normally would've been holed up in an office or stuck somewhere in traffic, I was walking along beaches and hiking through jungles.
But I Don't Advocate This Lifestyle
This lifestyle is not practical for everyone. For example, if you're in college, if you have kids and a family, or if you own a brick-and-mortar business, your circumstances will likely prohibit such an extreme reduction of possessions.
And that's fine.
If you're happy with your lifestyle, then by all means don't change it.
What's important isn't that you can live with all your stuff in one bag, but rather that your mindset and approach to life is one that doesn't create unnecessary waste or complication.
"Simplicity is the ultimate sophistication." - Leonardo da Vinci
In a material world, it's only natural that simplicity would be taken to mean fewer material possessions. But there's more to life than physical objects.
We have hopes and dreams, thoughts and feelings, passions and desires. We love and we sympathize. We exercise our mind and our body. We create, develop, and maintain relationships.
Life involves so much more than material possessions and yet the wonderful benefits of minimalism are so often directed only to our "stuff" -- we think about how we can apply minimalist principals to the material world, but everything else remains as complicated as ever.
What I advocate is the practice of practical minimalism, that is the application of minimalist principals to all areas of life.
The Benefits of Becoming a Practical Minimalist
You don't need to live out of a backpack or travel the world to realize the benefits of minimalism. Not everyone can, should, or even wants to live with twenty-five items. However, I believe that you can find more happiness and peace by simplifying your approach to life.
You can reduce unnecessary stress, find more happiness, and live with less mental, emotional, and physical pain. You can learn things faster and discover whatever you're looking for more quickly. You can see life more clearly and make even the most stressful or confusing situations seem trivial.
You can discover how everything in life -- including your possessions if that's your goal -- can be maintained in a way that is more sustainable.
Six Steps to Practical Minimalism
To share some of what I've learned, I've created a free email series called Six Steps to Practical Minimalism.
In this series, I will use stories and lessons from my own past experience to show you how to apply minimalist principals to various areas of life.
To start receiving this series, all you need to do is sign up for the email newsletter. If you've already signed up, you should automatically start receiving the series within the next day or two.
***
Tomorrow marks the last week of my six month journey. The thought of returning to the USA conjures up the same feelings that I felt when I left for a foreign country six months ago and I can't help but wonder what strange thoughts, feelings, and emotions I will encounter when I arrive. But it definitely feels good to be going back home.
I'd like to say that I haven't felt homesick on the entire trip, but the truth is that I do miss my family and I do miss the familiarity of an environment where my senses aren't constantly being bombarded with unusual sights, sounds, and smells.
I'm sure it won't be too long before I'm itching to get moving again. If this six month trip has confirmed one thing, it's that travel is in my blood.